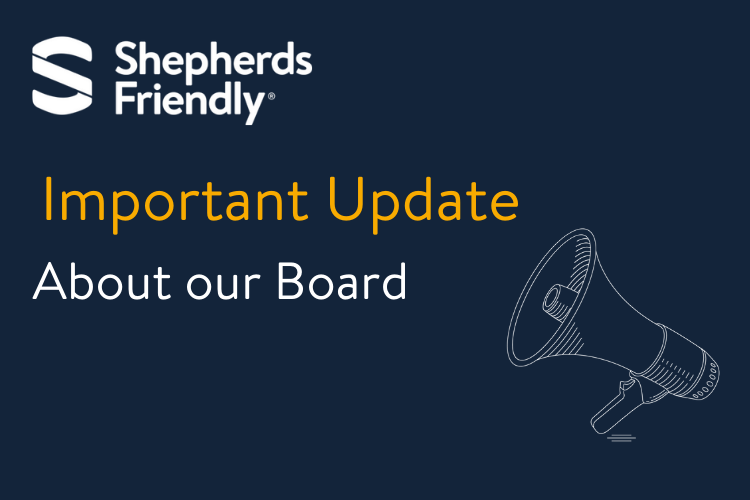 Changes to Our Board of Directors
19th November 2021
The Board of Directors at Shepherds Friendly is here to ensure that members are consistently put first. They empower our team to provide the high standard of service our members expect and to find new ways to make further improvements to our Society.
We can now share some exciting news about our Board. This includes a new Chair who is ready to help guide Shepherds Friendly on the next steps in our journey of evolution and growth. Here's what's changed:
Joanne Hindle steps down as Chair
After chairing the Society for the past eight years, Joanne Hindle is stepping down from her role as Chair. We're pleased to share that, although Joanne will no longer be chairing our Board, she will remain with Shepherds Friendly for another year, as a Non-Executive Director. Joanne made this announcement during our 2021 Annual General Meeting, saying:
"I wish to express my absolute honour and privilege to have served as the Chair of the Board over the past eight years, and the delight it has been to see Shepherds Friendly continue to develop and move onwards and provide such superb service for its members over those eight years that I have been Chair. I very much look forward to staying on the Board for one more year, in a different role, to see that journey continue."
We would like to thank Joanne for her time as Chair of our Society, it's been a pleasure to get to know her over the years and we are grateful for everything she's done for us and for our members.
To learn more about Joanne, click here.
Our new Chair: Nemone Wynn-Evans
Taking over from Joanne as the Chair of the Board is Nemone Wynn-Evans. Nemone is already a familiar face at Shepherds Friendly, as she has been a Board member for a number of years. As Senior Independent Director of the Society, Nemone acted as the voice of the member on our Board, whilst being a sounding board for the Chair and an intermediary for other Non-Executive Directors. We therefore have every faith that she has the skills, experience and knowledge needed to lead us on the next steps of our journey, as well as a genuine passion for our members and our values.
Speaking about her new appointment, Nemone said:
"I am truly delighted that I have been invited to step up from my Non-Executive Director role to serve as Chair of the Board. With a loyal and varied membership and an extremely dedicated team, Shepherds Friendly is such a special place that I am proud to be a part of.
"Our members can rest assured knowing that we're always working hard to find new ways to further improve the products and service we offer you. As Chair, my promise is to ensure that members will always remain our priority and I will continue to champion Shepherds Friendly's values of working together, doing the right thing and making a difference."
Find out more about Nemone and her experience here.
Simon Pashby: Senior Independent Director
With Nemone stepping up as Chair, the role of Senior Independent Director will now be filled by Simon Pashby. Simon has been a Chartered Accountant for over 30 years and has valuable experience of advising a wide range of financial services organisations on risk, regulations and controls. He has been a member of the Shepherds Friendly Board since 2016 and acts as 'Voice at the Board' and Whistleblowing Champion for our staff. We asked Simon how he was feeling about his new role, here's what he had to say:
"It is my pleasure to accept the role of Senior Independent Director and act as the voice of our members. In particular, I am responsible for appraising our Chairman's performance by taking into account the views of other Directors, our people and members and providing honest, constructive feedback.
"Members are welcome to get in touch with me to share their thoughts. I'm looking forward to hearing what our members have to say; after all, it's this feedback that helps us to make the Shepherds Friendly experience even better."
For more information about Simon, including how to contact him, please click here.