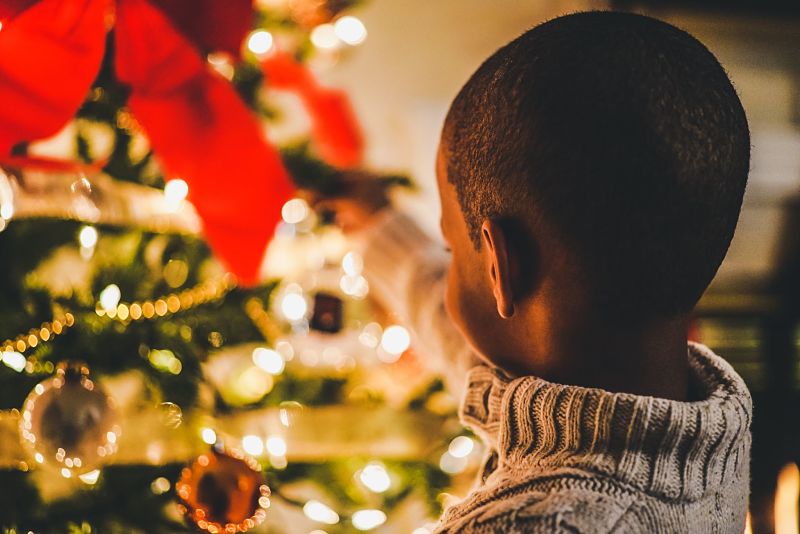 24 Ideas for Elf on the Shelf
29th November 2018
Advent is just around the corner, which means it's nearly time for those lovable elves to make their way down from the North Pole. Whether you hold with the traditional elf on the shelf idea that they are watching your child's behaviour to report back to Santa, or simply view it all as a bit of pre-Christmas fun and magic, thinking up new ideas can get tiresome!
We've come up with 24 ideas for elf on the shelf which will be guaranteed to get some laughs out of the kids, whilst avoiding parental tantrums at 11pm when you have forgotten to set things up!
1. Get arty!
Get out some old fabrics to make buntings, colour paper to make paper chains, or cut up some snowflakes out of paper, and make it look like Elf is getting the house ready for Christmas with a sign saying help me to decorate the house.
2. Popcorn explosion
Kids love it when their elf has had a mishap. Open the microwave and fill with popcorn, and sit the elf in the middle!
3. Wrap up warm
A lovely surprise when your child goes into the fridge to get the milk for their cereal is finding their Elf on the Shelf all wrapped up in the fridge. Make it look like your Elf has accidentally locked himself in the fridge while someone's been grabbing a snack in the night, by wrapping a flannel around him to make it look like he's wrapped in a blanket to keep himself warm.
4. Skittles rainbow
Children adore little activities left for them by their elves. A popular one which gets top marks for science magic involves the beautiful rainbow your kids can create from Skittles and a little warm water. Follow the instructions here. Set it up for the morning and watch their amazement.
5. Hot chocolate bar
If the weather outside is frightful and it's the kind of day for duvets and snuggles, set up your elf on the shelf for a hot chocolate bar. Make a little sign, then leave out supplies of hot chocolate, marshmallows and perhaps some squirty cream!
6. Board games
Seeing their elf playing their favourite board game with their favourite toys is sure to inspire some wonder. Easy for that last minute panic when you've had a manic day: just grab a board game off the shelf and quickly set it up 'mid' game.
7. Time for some TLC
Elf has had a busy week, so is looking forward to having some pamper time. Transform your slow cooker into a bath for your Elf by filling it up with marsh-mellows or cotton wool balls, and make a hair turban out of a small piece of fabric. Just don't turn the slow cooker on!
8. Hide and Seek time!
Yes, every day the kids need to hunt for the elf, but we take it to a new level. Leave a little note that the elf has hidden some chocolate coins or candy canes around the room. Watch as they busily hunt them down!
9. Grow candy canes
An absolute favourite, and drawing on all of Lapland's magic, is growing Christmas treats from nothing! Get small plant pots and some fake snow or oats. Then leave some red jelly beans for the child to plant. The next day replace these with mini candy canes, and the day after with the big ones ready to harvest!
10. Snow angel
Simple to do, get some fake snow or "100s and 1000s" and create a snow angel with the elf!
11. Snap, Crackle and Elf!
Dashing around again? Grab a box of Rice Krispies, cut out a hole where one of the character's heads is, and poke through the elf! This works brilliantly with any favourite child's cereal or even a tube of Pringles!
12. Keeping Santa updated
A quick one to sort out on those nights when you are short on time. Get a notebook and make it look like the Elf is writing a letter to Santa, updating him with what is going on in your household.
13. Climbing the Tree
This is another one for the slap-dash days where you're too busy to organise anything too creative. A quick idea is to balance your Elf on the tree as if he was trying to climb it, or you could sit him on a bauble making him look like he is admiring the view.
14. Cookie Monster
Has your Elf got a sweet tooth? If you've got a biscuit tin or a box of biscuits open, place him climbing into the tin or box as if he was about to treat himself to a scrumptious midnight feast.
15. Movie and Popcorn time
For a Saturday night/Sunday morning antic, leave out a Christmas film and some popcorn in anticipation of a festive but easy Sunday afternoon. There are so many family Christmas classic movies you can pick them up new for just a few pounds.
16. Dog food!
If it's mid-December and you're running out of ideas for your elf on the shelf, this one will be sure to be a hit. Stage the elf with some dog or cat biscuits with a note saying "Worst cookies ever! Do NOT leave these out for Santa". The kids will despair at their daft but lovable elf.
17. Photo fun
Have fun when the kids are in bed using a dry wipe pen to go and add some differences to the family photo frames! Draw moustaches on babies, glasses on Mummy and perhaps a Santa hat on Dad. Watch with a smile in the morning as they laugh at the transformations.
18. More photo fun
A slightly different take on having fun with photos can be to set up a photo booth where the elf is the photographer of your child's favourite toys. If you've planned in advance you could even get some photos developed beforehand, so that it really looks genuine.
19. Houdini and the Coke bottle
Take a bottle of Coke and drink it. Remove the label. Cut the bottle in half and rinse it out. Dry thoroughly. Pop the elf in the bottom half before putting on the top as a lid. Run some sticky tape around the outside before replacing the label. This works best for households where the kids know not to touch the elf. They will marvel as to how on earth the elf managed it.
20. Festive jokes
Another one for the dry wipe pen! Write festive jokes on the mirror!
21. Rudolph noses
If you've got heavy sleepers, this one will tickle their fancy and make for some ultra-cute photos. Use a small dab of red face paint to make Rudolph noses on everyone in the house. Don't forget that Mum and Dad can't be left out either!
22. Spidey elf
A great one for the hide and seek factor is to suspend your elf upside down with a Spiderman mask. This is surprisingly easy to do. Just tie the elf's hands and ankles together using fishing twine, which can also serve as the web. You can print this image to make the mask.
23. Nice and toasty
In our experience, kids find hilarity in their elf getting something 'wrong'. There will be shrieks of laughter if you pop the elf between a couple of slices of toast with a little sign 'It's cold outside, but I'm feeling nice and toasty!"
24. Nap time
Finally, create a fashion an eye mask out of fabric, lie the elf on a cushion, and simply leave with a Do Not Disturb sign.
Whether Elf on the Shelf leaves you Bah Humbug and lamenting this new 'tradition', there's no doubting that the kids absolutely love it. Once you've seen the magic on their faces, you simply need to know how to do low key set-ups for maximum reward. We hope the 24 Elf on the shelf ideas above give you the inspiration you need.