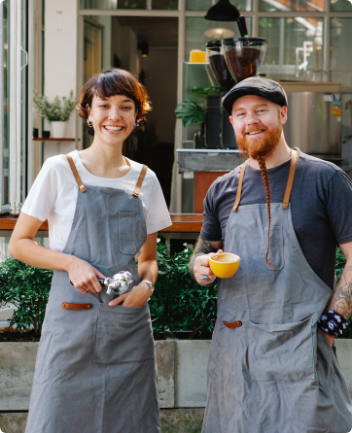 About Enhanced Benefits
We believe everyone can benefit from being part of Shepherds Friendly, so we try to go above and beyond to deliver real value to our members. That's why we've introduced a new and improved benefits package for our Income Protection plan holders.
Enhanced Benefits connect you to the best health and wellbeing services whenever you need them, plus helpful financial support. Please see below for more details.
How to access your Enhanced Benefits
Our Enhanced Benefits are available to members who have an active Income Protection plan with us (excluding Holloway and Premier Protect Income Protection plans) and are resident of the United Kingdom or Isle of Man, as long as payments into the plan remain up to date.
If you'd like to access your Enhanced Benefits, all you need to do is visit the Enhanced Benefits Log-in page on our website. You'll need your plan number (which can be found in your welcome pack or welcome email) your name, and email address as they appear on your plan. Alternatively, please contact our Member Services team on 0800 526 249.
Don't have a plan yet? You can learn all about our Income Protection Insurance and get a quote online. 
Nuffield Health Benefits

Nuffield Health Virtual GP
Connecting you to 24/7 GP access wherever you are
Your health matters. So, when you're feeling under the weather or have concerns about your health, it's always reassuring to speak to a professional. Your Enhanced Benefits include access to the Nuffield Health Virtual GP service, which allows you to access 20-minute appointments, online or through a dedicated app, 24 hours a day, 7 days a week, worldwide.
How does it work?
Unlimited appointments – Access as many video or phone GP consultations as you require
24/7 appointments – GPs are available around the clock
Choose your GP – Your choice of GP is flexible, including gender, and there's no need to unregister from your existing GP
Available worldwide – Includes international prescriptions or advice on over-the-counter medication while abroad
Referrals and fit notes – Specialist referrals and fit notes can be uploaded direct to your medical records
Prescriptions – Private prescriptions delivered to your door or nearest local pharmacy
Use alongside your NHS GP – Your notes can be shared with your NHS GP (with your consent)
Nuffield Health Emotional Wellbeing
Help explore and improve your emotional wellbeing
Accredited by the National Institute for Health and Care Excellence (NICE), the Nuffield Health Emotional Wellbeing platform is designed to help maintain and improve emotional wellbeing, by addressing the underlying issues that can have a negative impact on your mental health.
How can the platform benefit you?
Getting started is simple – Start by taking two minutes to answer a 5-question multiple choice Wellbeing Questionnaire. This Wellbeing Questionnaire helps to set out a personal journey for you.
A variety of options – There are various programmes available which are designed to provide information and support for people experiencing problems related to mental health or to boost your emotional wellbeing.
Proven effectiveness – Based on years of clinical research, this platform contains interactive and engaging activities, applications and quizzes that can be completed as you move through the programmes.
Nuffield Health Gym Discount
Get 20% discount on Nuffield Health Gym 'Anytime' Membership
Being more active can lead to a healthier, fitter you and even boost your mental health. So, to help you start or continue your fitness journey, your Enhanced Benefits offer you up to 20% discount on a new or existing Nuffield Health 'Anytime' gym membership.
What's in it for you?
20% off 'Anytime' monthly membership fees at Nuffield Health Gyms
Get fitter, feel healthier and enjoy savings at the same time
Discounted access to physiotherapist, personal trainers and Health MOTs
A wide range of group exercise classes and equipment
Access to gym locations throughout the UK
Family Support Benefits
New Child Payment
Get £250 towards your child's future
As an Income Protection member, you could be eligible to receive a New Child Payment of £250. This is a payment that will be made, into a Shepherds Friendly Junior ISA, upon the birth or adoption of your child and is ideal for giving them a head start in life. Terms and conditions apply; take a look at our Enhanced Benefits guide to see if you're eligible.
Bereavement Payment
Added peace of mind for you and your loved ones
No one likes to think about what will happen once they're gone. However, it's that little bit easier when you know that those close to you will be taken care of no matter what happens. If you die during the term of the plan, our Bereavement Payment provides your loved ones with a helping hand at what is sure to be a difficult time, by offering a payment of £6,000. Eligibility criteria applies, take a look at our Enhanced Benefits guide to read the Terms and Conditions.
Are you an Income Protection member looking to access your Enhanced Benefits?
If you have an Income Protection plan with us, your Enhanced Benefits are ready and waiting for you. Click this link to access them: 
If you would like more information about Enhanced Benefits or our Income Protection plan, please feel free to contact our Member Services team who will be happy to answer any questions you may have.
Call us
0800 526 249
Send us an email
[email protected]
You can call us any time between 9am – 5pm Monday to Thursday or 9am – 4pm Friday.