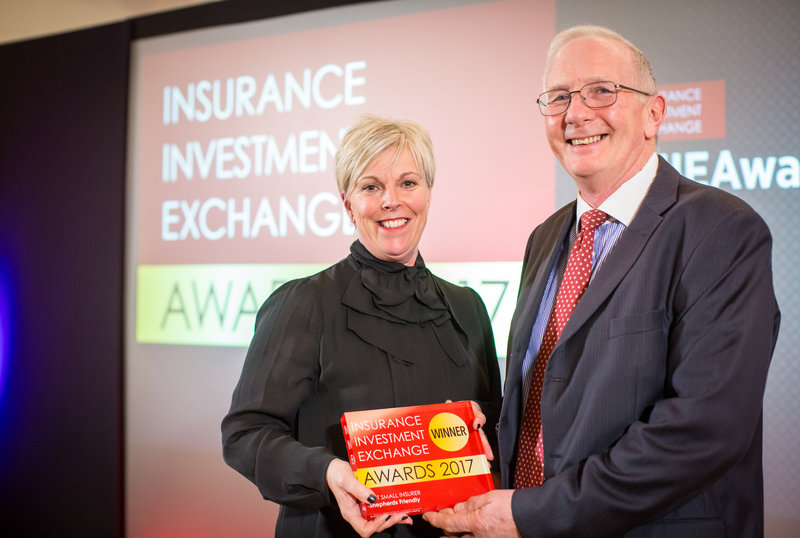 We win 'Best Small Insurer' award at prestigious industry event
30th March 2017
Here at Shepherds Friendly, we're committed to achieving the best results for all our members. Now, this ethos has been rewarded with a prestigious industry prize.
We are excited to announce that we recently won the 'Best Small Insurer' award at the inaugural Insurance Investment Exchange Awards, a night dedicated to highlighting the vital work carried out by investment teams and asset managers.
A panel of leading experts from across the insurance industry selected winners in a range of categories, and we were recognised along with other major industry names including Allianz Global Investors, Deutsche Asset Management and M&G Investments.
Ann-Marie O'Dea, CEO of Shepherds Friendly, accepted the award  from Dr Bob Swarup, co-founder of the Insurance Investment Exchange. She said : "I'm really proud to accept this award on behalf of all the Shepherds Friendly team who work so hard for our members.
"We believe in conducting our business with integrity, ensuring that investments are treated fairly and responsibly. And, by creating a culture that encourages creativity, we can constantly seek potential in all the small areas of opportunity that we encounter."
The Insurance Investment Exchange (IIE) recognised us as 'Best Small Insurer' for the creative ways that we seek to maximise the returns from our investments for our members. It is the first time that this industry recognition has been available to the insurance investment community and the ceremony shone a spotlight on the excellent work that our team do on behalf of our members.
IIE acknowledged the challenges facing small insurers 'in ensuring their investment portfolios deliver real value while minimizing the growing resource demands of navigating an increasingly complex and volatile environment'. Our ability to supply an innovative strategy and to use internal talent were both factors in the award.
Bob Swarup, who presented Shepherds Friendly with the award, said: "The numerous strategies and solutions put forward to meet the many challenges of the current insurance world demonstrated a rich diversity of thought, and it is clear that innovation is alive and well."
You can find more information on our adult savings plans here or call us on 0800 526 249.