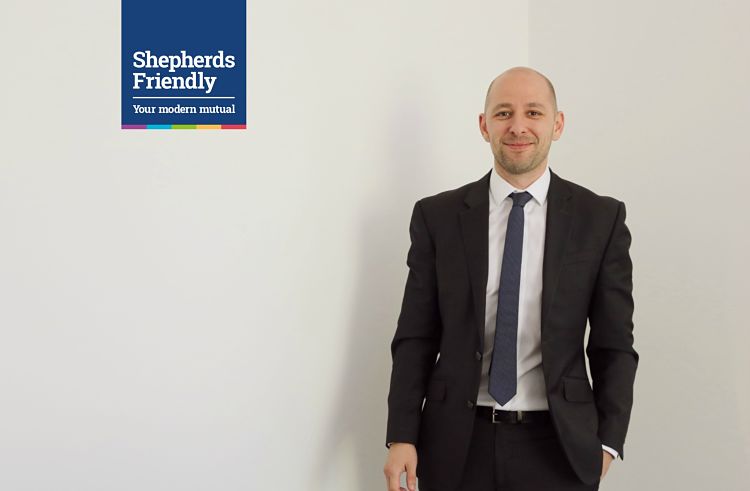 A chat with… Our new Head of Risk and Compliance
31st July 2018
We sat down with our Head of Risk and Compliance, Drew Powell, to talk about his new role at Shepherds Friendly and some of the new projects the department is working on to benefit our members. We also spoke about how the department adapts to the latest trends to tie in with the company's ethos of being a 'Modern Mutual', continuously looking to improve the experience of new and existing members.
Hi Drew, congratulations on the new position! Could you tell us a little bit about your career journey before you started here at Shepherds Friendly?
I started worked in the financial services industry right from the start, since I finished university in 2005. My first employer was ReAssure, a financial services provider based in Shropshire, where I worked for nearly nine years in various roles.
Deciding that I wanted a new challenge, I relocated to Manchester and accepted a role with Deloitte LLP in their Risk and Regulation Practice. This gave me the opportunity to broaden my financial services knowledge and work with a wide variety of different organisations. It was hard work at times but I learnt a great amount during my time with them.
Finally, prior to joining Shepherds Friendly, I worked at the Co-operative Bank in a Senior Compliance Manager role.
Thanks for sharing that with us, that is definitely some great experience. What made you want to join Shepherds Friendly?
During my time at the Co-operative Bank, I realised that the organisations proud heritage of strong ethics, values and customer focus resonated with my own personal principles. Therefore, I want to ensure that any future employers' ethics and values are aligned to my own principles.
I heard about the position of Head of Risk and Compliance available at Shepherds Friendly, researched the Society to understand their principles and member focus, and felt that the Society would be a great place to work.
It is also true that first impressions count – during my first visit to Head Office I was made to feel really welcome and I noticed straight away how the staff go the extra mile for members. Moreover, I was also impressed by the vision of how Shepherds Friendly intended to continue to be a modern mutual society going forward.
What does your new role here involve?
My main responsibilities, and that of my department, are to provide oversight of the Society's activities to ensure they are compliant with both internal and external policies and regulations. We achieve this through various activities such as monitoring of processes, providing advice and training staff where required.  We also help to identify and manage any risks the Society might be facing to ensure we can minimise their impact and continue to act in our member's best interests.
The Risk and Compliance Department carry out all of these activities keeping in mind that we support the Society's mission, values and principles.
Could you please share with us some of the projects you and the department are currently working on or looking to work on in the near future?
We continuously search for and review new regulatory or legislative change to make sure the Society stays up-to-date with its responsibilities. In the second half of 2018 our focus is on a directive that will be enhancing consumer protection, when buying our products. We will also be looking at the introduction of a new regulatory regime which also aims to enhance consumer protection and increase integrity throughout the financial services market.
During 2018 and beyond we will also be providing support to the other key projects that are being delivered across the Society.
And finally – though it hasn't been too long, what have you enjoyed so far while working here at Shepherds Friendly?
I have definitely enjoyed the fast paced, forward-looking nature of Shepherds Friendly, while it maintains its mutual society values and principles. There is a constant focus on how we can improve as an organisation for the benefit of our members, which I find great.
Moreover, the Society's staff have been a real highlight for me too – I have been made to feel welcome from my very first day and also part of a team who are all working towards a common goal. It is said that an organisations staff are their biggest asset and this is especially true for Shepherds Friendly.