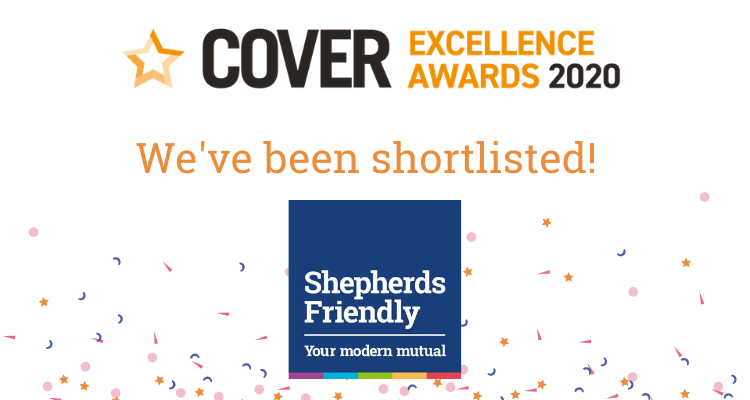 COVER Excellence Awards 2020: Multiple shortlist mentions for Shepherds Friendly
24th July 2020
Even though we're still celebrating our win at the COVER Customer Care Awards 2020, we have more brilliant news to share with you. We've been shortlisted in four categories for the COVER Excellence Awards 2020, including an individual nomination for a member of our Business Development Team.
The COVER Excellence Awards focus on businesses that are 'leading by example' and were created to "celebrate the leading firms and intermediaries within the protection, life and health insurance space". With COVER being one of the most well-known and respected financial publications in the UK, these awards are highly coveted throughout the industry.
We're delighted to announce that we have been shortlisted in four categories for these prestigious awards:
Best Added Value (Provider)
Best Individual Income Protection
Best Promotion of Protection
Rising star award
Head of Sales, Alex Fallowes was recognised in the shortlist for the 'Rising Star' award and he is thrilled with the news:
"To be shortlisted as an individual was very unexpected, but a real honour. It's such a compliment to be recognised because I'm passionate about what I do, Shepherds Friendly, and providing great service to our members and intermediaries.
"I work very closely with my brilliant colleagues within the Business Development Team on a daily basis, so it's very much a team effort. If I'm lucky enough to win the award, I'll be accepting it on behalf of the whole team."
We'll have to wait a while to find out if we've been successful; the winners of the COVER Excellence Awards 2020 will be announced on 10th November. Until then, please wish us the very best of luck and keep an eye on our social media channels for updates and any awards news as it happens. We'll be sure to let all of our members and intermediaries know how we get on.