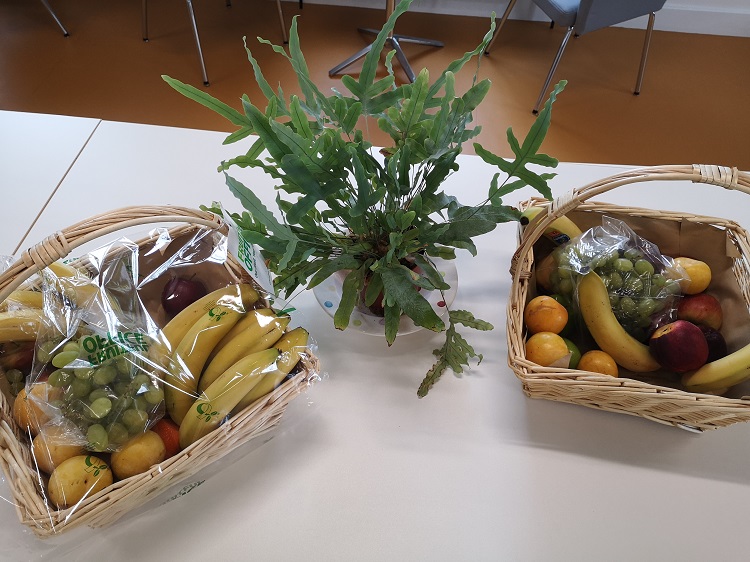 More than just a fruit basket: Our staff enjoy a Fruitful Office
24th October 2019
Things are getting a bit fruity at Shepherds Friendly! We've partnered with fruit delivery company, Fruitful Office, to provide our team with fresh fruit to snack on while they're at work.
As part of our ethos of being a place where people want to work and providing an environment where our staff feel motivated and valued, we wanted to introduce healthy snack options to keep our team going throughout the day. Fruit was an obvious choice, but we knew we had to select a supplier that shared our values and passion for making a difference.
That's why, last year, we chose Fruitful Office to provide us with a selection of fresh fruit baskets every month.
Fruitful Office works with numerous businesses across the UK, promoting health and wellbeing at work by delivering fresh fruit baskets. As part of their charitable work, they pledge to plant a fruit tree in Africa for each basket ordered. In fact, since we started ordering from them, we've helped Fruitful Office to plant 25 trees!
The ongoing fruit tree planting programme takes positive steps in the fight against the effects of global warming, whilst providing support to local communities. Working in collaboration with RIPPLE Africa, Fruitful office provide fruit tree seedlings, training and equipment to farmers, community groups, schools and individual households.
Moreover, once the trees have grown, they are a source of nutrition and firewood for the African families, which can also become a source of income generation.
Maxine Taylor, HR Administrator at Shepherds Friendly, said:
"We are delighted to be a part of the Fruitful Office initiative. It's great to know how our monthly fruit baskets have a positive impact on the local communities in Africa.
Having fruit delivered regularly to the office has also benefited our staff, as they enjoy healthier choices of snacks and there's always a great variety for them to choose from."
Some of the regular fruits we look forward to in our monthly baskets include bananas, apples and grapes. In addition to this, we also receive changing seasonal varieties, such as clementines, kiwis, berries, nectarines, kaki fruit and figs.
Melissa Jones, the newest addition to our marketing team, said:
"The fruit baskets are great. Everyone can just help themselves and the fruit itself is really fresh and tasty. Plus, it's a nice little perk for the team that lets us know we're appreciated."
Alongside their charity work in Africa, Fruitful Office is also an environmentally focused business. They try to keep their carbon footprint as small as possible by sourcing fruit from UK farmers and Western Europe. This was of particular interest to us, as we strive to make sure our company is environmentally friendly.
Thanks to the beautifully presented and bountiful baskets, fruit delivery day always causes a buzz in the office. However, knowing that every basket does some good makes them all the sweeter for us!