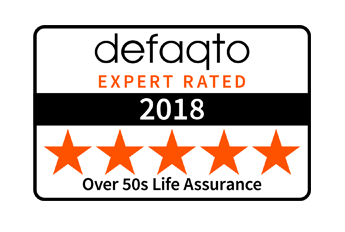 Shepherds Friendly is awarded another 5 Star Rating, this time for our Over 50s Life Insurance
22nd November 2017
Everyone here at Shepherds Friendly is delighted to announce that our newly updated Over 50s Life Insurance plan has been awarded a coveted 5 Star Rating by Defaqto, the leading experts in ratings for financial products. Based on facts not opinions, Defaqto Star Ratings provide consumers with an accurate benchmark so that they can see at a glance how products compare.
This is the second of our plans to be awarded a 5 Star Rating this year, with our Income Protection plan receiving the same rating only last month. We are all very proud of receiving another brilliant score from Defaqto, especially as we have updated our Over 50s Life Insurance plan to make it more flexible and supportive for you, our members.
Shepherds Friendly Over 50s Life Insurance provides a cash lump sum, aimed at covering some of the costs of your funeral and other expenses. It is there to take the worry and stress of paying for after-life costs away from your loved ones, giving you peace of mind.
We have given a lot of thought into what you, our members, would want from an Over 50s plan. We have added new supportive options to make the plan more beneficial for both you and your loved ones.
The benefits of our plan:
Higher sum assured;
No medical questions asked;
Premiums start from as little as £10 a month – You only have to pay for 30 years or until the age of 90. Whichever comes first;
Guaranteed cash lump sums that will never reduce;
No premium increases for life – Yet still with flexibility if your circumstances change and you need to reduce your payment amount;
Access to the National Bereavement Service for your loved ones – a not for profit organisation that can offer counselling, guidance and support;
 Like all Shepherds Friendly products, our Over 50s Life Insurance is designed around you!
Our CEO, Ann-Marie O'Dea, has said, "Shepherds Friendly truly deserves the 5 Star Rating we have received for our Over 50s Life Insurance. It is the second 5 Star Rating we have been awarded for a plan of ours this year, after our Income Protection plan also received the same accolade. It recognises the high quality of the features provided by our Over 50s Life Insurance and our Income Protection."
Who is Defaqto and what is a Star Rating?
Defaqto is a financial information business, helping financial institutions and consumers make better informed decisions. Their experts research, collect and continuously assess over 41,000 financial products, including income protection, and rate them on a scale of 1 to 5 based on feature and benefits that are relevant to consumers. These ratings are known as Star Ratings. They provide consumers with an unbiased and transparent assessment of the products and policies in the market from the Defaqto experts