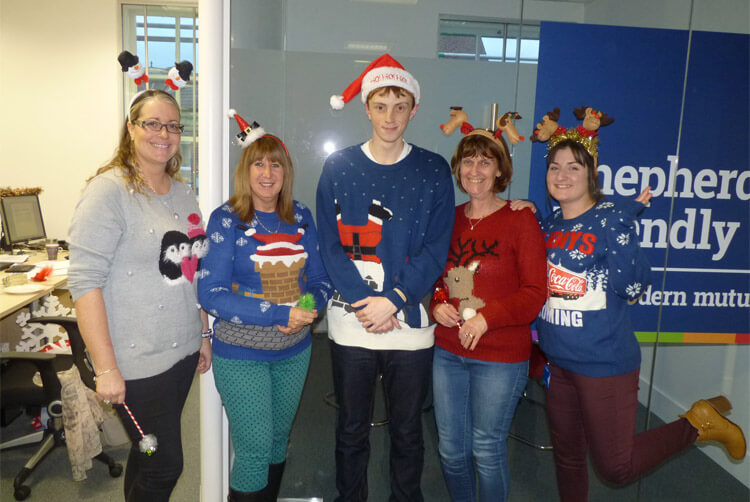 Shepherds Friendly Society holds charity Christmas lunch
15th December 2015
This week Shepherds Friendly Society held their annual charity Christmas lunch at their new head office in Cheadle and managed to raise £126 for the wonderful charity Seashell Trust.
Shepherds Friendly Society employees helped prepared and arrange the Christmas lunch, with staff members bringing in food that they used to have at Christmas when they were younger. Everyone wore their favourite Christmas jumper, which added that extra bit of festive cheer.
The Shepherds Friendly Society board members also joined in the fun, as they all wore their Christmas jumpers and helped judge the best efforts. There were prizes for first, second and third best Christmas jumper, as well as most festive team. Joint first place winners won a bottle of Prosecco each, and the most festive team, customer services, all won chocolates to share between themselves.
As the Shepherds Friendly Society staff enjoyed their Christmas lunch, a collection was passed around for the wonderful charity, Seashell Trust. Seashell Trust are a charity  dedicated to providing a creative, happy and secure environment for children and adults with complex and severe learning disabilities. Shepherds Friendly Society have worked with them throughout the whole of 2015, via fundraising and helping out with them on site, and hope to carry on this partnership into 2016.
Ann Marie O'Dea, CEO of Shepherds Friendly Society, said:
"The Christmas lunch was a great way to get into the festive spirit, and the food that everyone prepared was wonderful. We know how important it is to give back to the local community, especially at Christmas, so that's why we decided to used this lunch to help raise money for the local charity Seashell Trust."