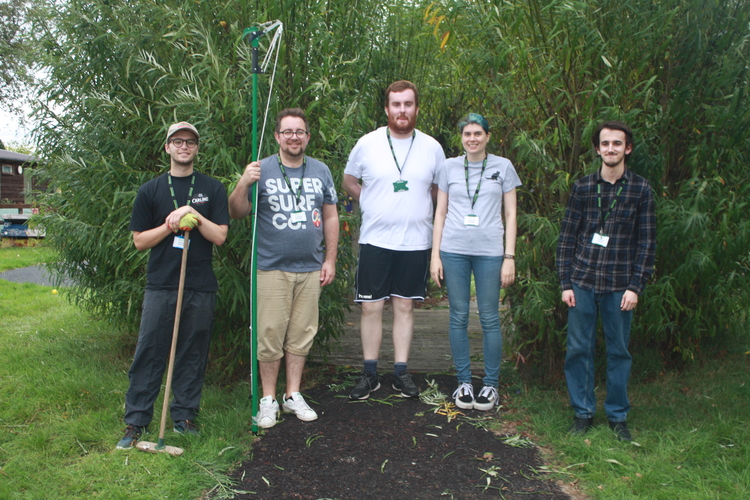 Our summer volunteering at Seashell Trust
9th October 2018
This summer we've had a busy and enjoyable time volunteering at Seashell Trust to help out with a variety of tasks there, as our way of giving back. The staff team from Shepherds Friendly contribute at least one day a year to give back to the local community by volunteering.
Seashell Trust is a charity local to us, located in Cheadle. They provide care for children and adults with complex learning disabilities, which, in some cases include those with little or no language abilities. The charity provides a safe, happy and creative environment for those they care for.
Throughout the summer our staff team visited their site to help out with different tasks. The sunny summer days this year gave us the perfect opportunity to tackle some gardening in the school grounds and sensory gardens. We kept busy digging out weeds, mowing the lawn, trimming the hedges and some general tidying up to make the areas clean and secure, for the children to enjoy.
We also lent a hand with setting up tents and stalls, and putting up decorations made by the children, for a festival the charity was hosting.
Others helped out in the offices at Seashell Trust, making calls to help fundraise by selling tickets for Seashell Trust's raffle. Amira from our business development team and Nikki from claims and underwriting managed to raise a great amount of donations in one day through calling companies from Seashell Trust's list of regular donors and contributors.
We also bought an Amazon Echo for the charity to offer as a prize in their raffle.
This summer was the first time some of our new member of the team volunteered for the charity. Everyone had positive feedback about their experience.
Here's what Callum from our claims and underwriting department said about his visit:
"I thoroughly enjoyed my day at Seashell Trust. Knowing that the work we did helps provide a safe and stimulating environment for those at Seashell Trust is hugely rewarding. I'm sure there will be lots more opportunities to volunteer in the future and I am looking forward to them already!"
It was the first time Jamie, from our Finance department, was visiting. He commented:
"My experience of helping out at Seashell Trust was excellent. We spent the morning gardening and clearing weeds from one of the children's play areas and the afternoon tidying up the sensory gardens. Towards the end of the day, seeing the final outcome of our efforts gave a great sense of achievement, as through doing something so small we were able to help provide the children with a neater area they could use to play in and spend time with their family members. It also put into perspective how important the work that the Seashell Trust does is."
We can't wait to go back and help out some more!