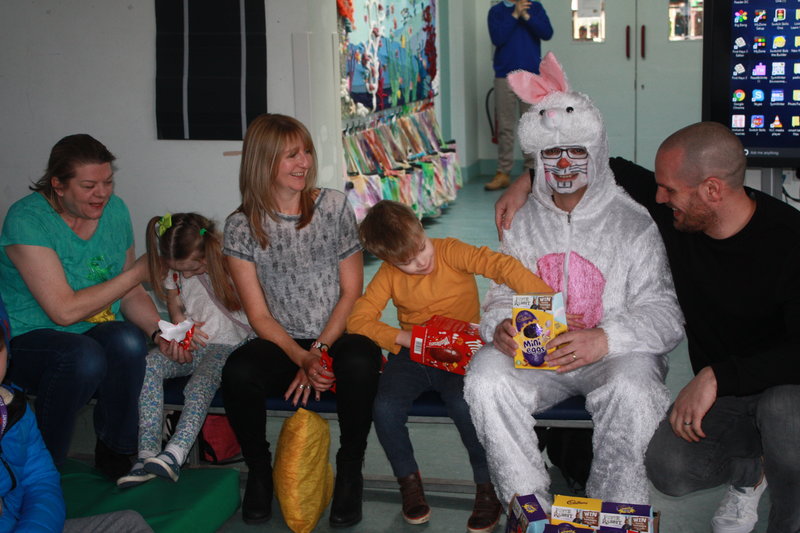 A trip to Seashell Trust by the Shepherds Friendly Easter Bunny
6th April 2018
Here at Shepherds Friendly Society, we enjoy paying regular visits to charities and giving back to the community. Seashell Trust is a charity we work closely with. The charity is dedicated to providing care for children and adults with complex learning disabilities. With Easter on its way, we thought there is no better way to bring joy and excitement to the children than with chocolate.
In our most recent visit, Shepherds Friendly's very own Easter Bunny Antony, head of the sales department, along with his helper Alex, from the business development team set out to visit Seashell Trust in Cheadle to distribute Easter eggs among the children and help organise an Easter egg hunt.
The day was highly enjoyable for both our team and the children at the school.
Antony, Head of Distribution, said:
"It was great seeing how happy the children were while they received their Easter eggs.
"It's always lovely paying a visit to Seashell Trust and admirable seeing the great work they do with children and young adults, and how our donations and fundraising efforts help with the work they do."
Alex, National Distribution Manager said:
"Observing the excitement on the children's faces when the Easter bunny was giving out the chocolate was truly heart-warming.
"The work Seashell Trust do is amazing. I look forward to going back to volunteer with them again."
Diane Massey, the fundraising administrator at Seashell Trust, commented:
"The children loved the visit from the Easter Bunny and receiving their eggs from him."
Staff from the Shepherds Friendly team who could not visit the school celebrated Easter at the office instead, by fundraising through various activities. A raffle draw, pin the tail on the bunny and guess how many jelly beans in the jar were some of the activities, which helped raise £127.20 for the charity.
We have been raising money for Seashell Trust for some time and have managed to raise over £5,300 since 2014, through multiple events and with the help of donations from our staff.
Seashell Trust is a charity that helps, cares for and offers education to children and young adults with complex earning difficulties, throughout the UK. We are immensely proud to be partnered with the charity. To find out more about the work they do, or if you are interested in volunteering with or donating to the charity, please visit: www.seashelltrust.org.uk