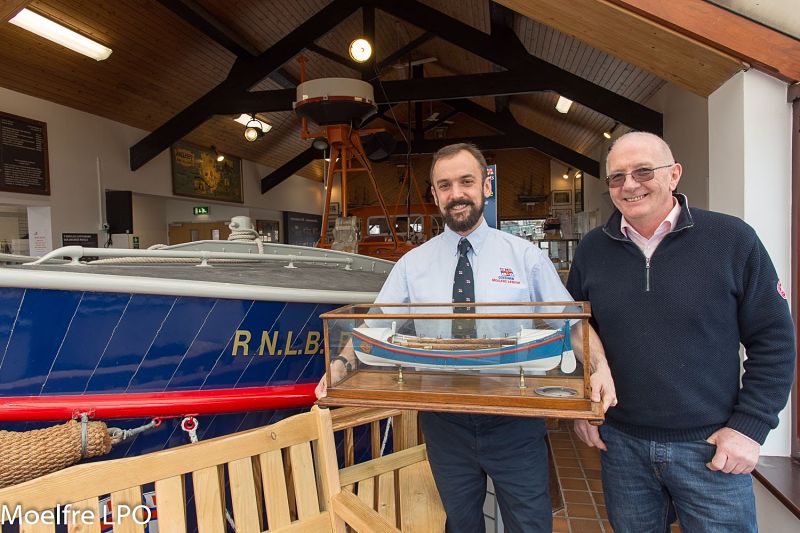 Shepherds Friendly return RNLI lifeboat model to its birth place in Anglesey
28th March 2018
On the 21st March 2018, Shepherds Friendly took a trip to the Royal National Lifeboat Institution (RNLI), in Moelfre, to return a model of one of the first lifeboats that was built for Anglesey.
Shepherds Friendly donated £297 to the RNLI in 1876 to build a new lifeboat and as a thank you, we received the architects model.
Approximately 200 years later, our managing director, Kim Harris, bought the boat at an auction, and decided to donate the boat back to the RNLI so others can appreciate the history of their lifeboats, and see how much they have changed since 1876.
Libbi Martin, Senior Marketing Manager and Sam Atherton, Digital Marketing Executive both from Shepherds went along with Kim to Anglesey and returned the boat to its final resting place at Moelfre.
As well as returning the boat so that it can be exhibited in the museum, Shepherds Friendly donated £400 to RNLI Molefre which will be used towards training and new equipment that will help with their rescues.
The donation was greatly received and the staff at the museum were thrilled.

Ruth Wilson, volunteer community curator at Moelfre RNLI visitor centre said: "We are delighted to have the Good Shepherd on display here at Moelfre RNLI visitor centre.
"Having a model of one of the first lifeboats here in Anglesey, and being able to compare it to our Tamar class lifeboat, Kiwi, we are able to explain how lifeboats have developed over the years".
Kim Harris, managing director at Shepherds Friendly Society said: "The RNLI do an incredible job of saving lives at sea and it was fascinating to see the difference in the lifeboats now to 200 years ago.
"We were given a tour of their £2.7 million lifeboat, the KIWI, which was built in 2013 and the craftsmanship and technology was remarkable. The team were extremely welcoming and I can't wait to return to show my grandchildren the amazing work they do."
You can find out more about the incredible work they do at https://rnli.org. You can follow them on  Twitter @MoelfreLifeboat