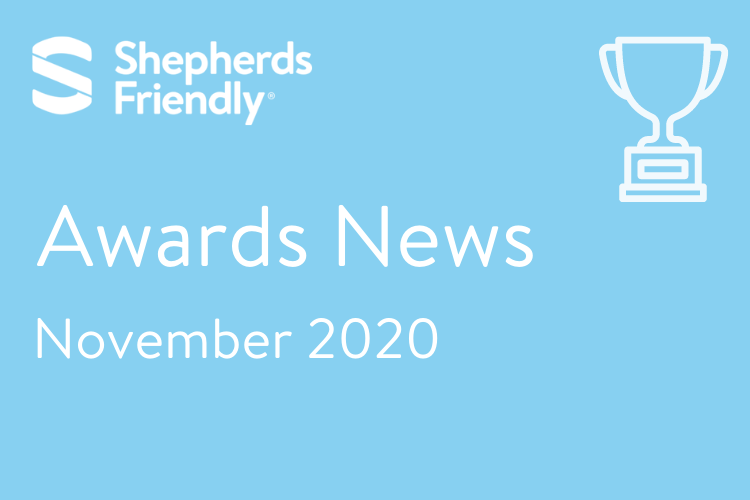 Virtual Awards Spell Good News for Shepherds Friendly: "We Are Beyond Thrilled"
30th November 2020
Despite the challenges 2020 has brought, the financial services sector's awards circuit has remained busy, with events taking place online throughout the year. The Shepherds Friendly team has had some more good news following two of the most recent virtual ceremonies.
With virtual meetings and social events becoming the norm, it may be unsurprising to discover that awards ceremonies have also been taking place online. The usual black-tie galas have been replaced with more casual affairs, as nominees, organisers and spectators throughout financial services are celebrating successes in the industry from the comfort of their own homes and offices.
We're pleased to share that our commitment to providing excellent service and straightforward products has not gone unnoticed. Two particularly prestigious awards ceremonies took place recently and Shepherds Friendly now has two more accolades to add to our growing list.
COVER Excellence Awards 2020
The COVER Excellence Awards took place on Tuesday 10th November 2020, with a virtual ceremony that still had all the excitement and suspense of an in-person event. These awards aim to "celebrate the leading firms and intermediaries within the protection, life and health insurance space."
With big names from throughout the industry present on the nominees list, the competition was strong. However, we're delighted to reveal that we took home an accolade on the night. Shepherds Friendly was highly commended in the Best Individual Income Protection category. Head of Sales, Alex Fallowes said:
"The COVER Excellence Awards are highly respected and coveted within the industry, so for us to be nominated was reason enough to be proud. Being highly commended in such a tough category is fantastic news and is testament to our commitment to making sure that our Income Protection is suited to the needs of our members and intermediaries.
"We'd like to thank the judges and pass on our sincere congratulations to all of this year's nominees and winners."
British Claims Awards 2020
At Shepherds Friendly, we take a human approach to claims, treating each case individually. So, a nomination for the British Claims Awards 2020 was welcome acknowledgement of our hard work to make sure our claims process is as straightforward, personal and stress-free as possible.
The awards took place on Thursday 19th November 2020 and our team got to enjoy another smooth and engaging online ceremony. When announcing the winners of the Claims Team of the Year, the announcer claimed:
"The winner of Claims Team of the Year is not a business-driven organisation, instead it focuses all of its attention and effort on customers and staff and delivers an excellent service as a result. This approach combined with always ensuring that its technology has a human touch makes this entrant a worthy winner."
And the winner was… Shepherds Friendly! Head of Claims, Daniel Palk and his team are delighted – he said:
"We are beyond thrilled with this award win. The business, as a whole, puts a lot of focus on service, including how we support our members at claim. In 2020, particularly, there has been a big emphasis on improving and streamlining our claims process, at a time where members needed us most.
"The claims team works extremely hard and they are really passionate about helping members. That means that not only do they carry out their daily duties to the very best of their abilities, but are always looking to go above and beyond and offer ideas to improve how we do things. What a great way to round off 2020, well done, team!"