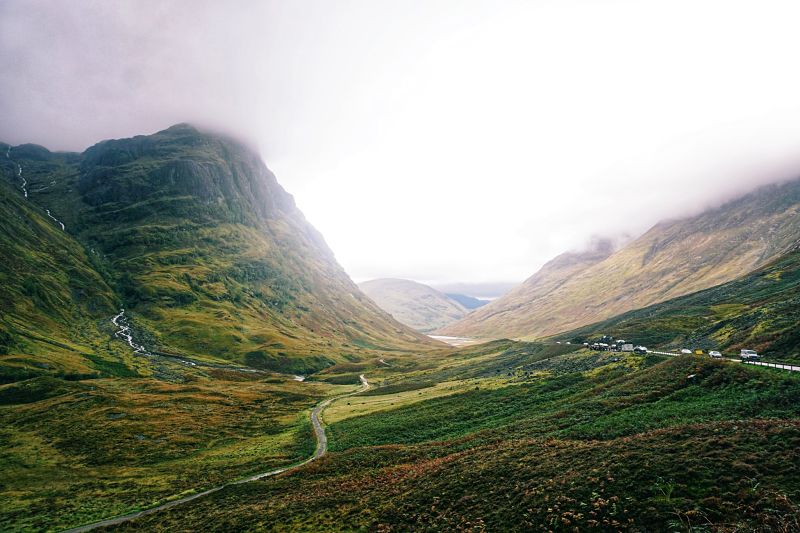 Best Walks in Scotland
15th March 2019
Few countries can compete with Scotland when it comes to majestic landscapes packed in to a relatively small space. From coastal headland ambles, to short family hikes around lochs or intense climbs rewarding you with breath-taking views, Scotland is a land for walkers. Take a look at our suggestions of the best walks in Scotland below:
1. The Quiraing, Isle of Skye
This is a two-mile hike but don't let the length deceive you. There's notable climbing here, but you'll be rewarded with the panorama which awaits you. Find out more about the walk here and get planning. This part of Skye is part of the Trotternish Ridge. It's a geological wonder and perfect for exceptional photos if you choose a clear day. The walk is circular, and you can start at either Staffin or Uig.
2. Old Man of Hoy, Orkney
Taking around 3 hours, this walk to see the Old Man of Hoy is a classic must-do if you want to experience Scottish walking. It covers just under-6 miles and starts at Rackwick, Hoy. You'll be walking on the stony but easy path which runs along the coast, uphill. The views are of Orkney at its best and you can relax on the downhill return. These are high sea cliffs, so wrap up warm and be prepared for wind!
3. Glenfinnan, Highland
Follow the instructions here to follow a waymarked route which will showcase fantastic hills and crags whilst wandering through a broad range of habitats. You'll take in the Glenfinnan monument, and can also head to the Railway Museum at Glenfinnan station. This is a good walk to pick a spot to sit quietly and see if you can spot red deer, raptors, or perhaps a playful otter.
4. Stac Pollaidh, Assynt
The walk to climb Stac Pollaidh is worthy of your attention, not least because this is a glacial landscape in action. It's not for those fearful of heights though, and you'll need proper boots to tackle the loose rock underfoot. The views showcase Scottish wilderness at its most impressive. Every way you look you can see for miles. This walk should take you around 3 hours, but you should be aware that some scrambling will be needed towards the end if you want to get right to the top.
5. Ben Lomond, Argyll and Bute
There are a variety of routes you can take to tackle this most southerly Munro. Ben Lomond sits on the shores of Loch Lomond and therefore attracts a fair number of the tourist crowd looking to give some Scottish walking, or a Munro, a go. Indeed, it's earned a reputation as being the most climbed hill in Scotland. Therefore, we really recommend tackling this walk early in the day. However, it really is worth it.
6. Muckle Flugga, Shetland
This walk is at the northernmost tip of Britain, and is about enjoying the wilds of Scotland, and indeed the world. It's a paradise for bird lovers as this is the Hermaness National Nature Reserve, home to thousands of seabirds. It'll take you around an hour to walk from the Visitor Centre.
7. Steall Falls and the Nevis Gorge, Highland
A good option for family walkers, this walk is around 2 hours long and covers a few miles. You walk up through Glen Nevis, marvelling at the gorges and meadow flowers if in season, and are rewarded by the impressive Steall Falls tumbling away.
8. Loch An Eilein, Cairngorm National Park
Another one perfect for all the family is the beautiful walk which follows the shoreline of Loch An Eilein. It will take you through the Rothiemurchus Forest, where little ones will delight in attempting to spot a red squirrel or two. The circular route is 3.3 miles and should take around 2 hours to complete.
9. River Braan, Perthshire
Walk amongst some of the tallest trees in Britain to find Black Linn Falls. You can follow the river, wending through the woodland, to come across these falls. What's more, you may even spot the infamous oak of Shakespeare's Macbeth.
10. The Scottish National Trail
The Scottish National Trail is 864km of pure Scotland! It runs all the way from Kirk Yetholm on the Scottish borders, all the way to Cape Wrath. This is a walk for serious hikers who nonetheless may choose to complete it in stages. You'll see the full wonder of diverse Scottish landscape over the course of the trail, taking in other famous trails as part of the route.
Walking in Scotland offers such a varied and impressive landscape that it is hard not to fall in love. Whilst inclement weather may not be your friend, don't let that put you off. Plan accordingly and you'll be rewarded with walks which are peaceful and inspiring. You'll find something for everyone, and a country which keeps on coming up trumps. s