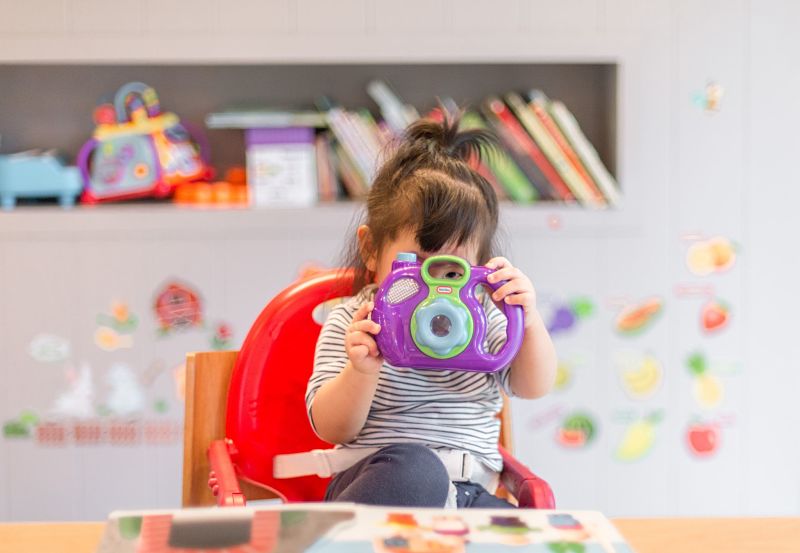 Children's books that inspire creativity
1st June 2018
Kids are naturally creative. They'll make space rockets out of boxes, paint out of mud, and outfits for their toys out of scraps. Tapping in to that creativity and nurturing it gives them the tools to grow, develop, and even find their own sense and calm in the world. Books can foster and inspire children's creativity. It's been nearly impossible to narrow down, but here are our favourites.
1. 'Beautiful Oops' by Barney Saltzberg
Children should be able to create without fearbut at some point in early primary many children lose some of that fearlessness as they start to worry about getting creativity 'right'. This book shows there's no such thing, only opportunities. This is a great book for little ones as it's even meant to become the artwork itself.
2. The Usborne Creative Writing Book
Absolutely wonderful for children aged around 8 and up, this incredible book brings out the creative spirit in everyone. With pages packed full of activities from map creating to story boards and ideas generators, older kids will love having their creative imaginations fuelled, without a boring writing exercise.
3. 'Ish' by Peter H Reynolds
This is a delightfully illustrated story about a boy who loves to draw, loses his confidence due to a big brother's harsh words. It is a wonderful insight in to how the beauty of art is in the eye of the beholder and ideal for any young artist having a confidence wobble.
4. Usborne Step-by-Step Books
Usborne have a series of Step-by-Step drawing books based on different themes such as animals. These books are designed to be drawn in and can quickly enable a child to draw something which resembles what they are trying to achieve. It's great for basic drawing concepts and boosting confidence.
5. 'Looking at Pictures' by Joy Richardson
Looking at Pictures is an insightful book which will take children on their first journey into art history. This book enables children to comprehend how to look for stories in art, the use of colour and the different types of art they can see around them.
6. 'Tinkerslab – A Hands of Guide for Little Inventors' by Rachel Doorley
Actually a book for parents, this will enable you to inspire creativity in your little one. It's about creating through exploring and tinkering, as only children do best. Inside you'll find secrets about how to encourage creativity along with 50 fabulous ideas you can try. Your child can nurture their creativity with activities such as ice and salt experiments, invisible ink and DIY light boxes.
7. 'Big Book of Science Things to Make and Do' by Rebecca Gilpin and Leonie Pratt
This may have science in the title but don't let that make you think that it's not also about inspiring creativity. This is a fantastic book which children from preschool age and right through primary school will love browsing and selecting activities to try. Through the activities children learn the link between science and art. There are spinning paper helicopters and light catchers just for starters.
8. 'The Very Arty Box' by the V&A Museum
Inside this box are 100 postcards and activity cards. Ok, so it's not quite a book, but it's nearly there! On these cards are make-and-do activities which are hugely diverse from creative writing prompts to colouring in of famous V&A works. Fashion loving kids will find their imaginations fired, but there's something for everyone.
9. 'The Artful Parent: Simple Ways to Fill Your Family's Life with Art and Creativity' by Jean Van't Hul
Another one for the parents based on a blog, but this book is wonderful for enabling you to foster creativity within family life including music, outdoor activities, and art itself. It includes big scale projects as well as quiet activities which can be used with toddlers and upwards.
10. Roald Dahl's Marvellous Colouring-Book Adventure
Colouring books are fabulous for letting imaginations loose and keeping little fingers busy. This phizz-whizzing splendiferous collection will see them dreaming with the BFG's dream jars or imagining life inside James' Giant Peach. What's more they link back to the stories so link illustrations and the power of the written word.
11. 'Diary of a Wimpy Kid: Do-It-Yourself Book' by Jeff Kinney
For around Key Stage 2 stage, this book is fabulous for those who struggle to get their pictures looking like they want and lose confidence as a result. It's all about taking the simplistic Wimpy Kid style and having a go. It's also a starting point for journal keeping.
12. I Am An Artist by Marta Altes
This is messy, this is creative, this is all about a love of art and humour. The combination of creativity with fun and giggles is fabulous. It's great for inspiring younger kids to see art everywhere they go.
13. Usborne Fingerprint Activities Garden
Again, a series from Usborne, but we particularly love this one. Complete with its own ink pad you're actively encouraged becoming creative with colour with nothing more than your own fingertips.
14. 'Trace Copy Colour Cut – Arty Mouse' by Top That Publishing
A clever step in to being able to create what you like for little ones who perhaps need some work on their fine motor skills too. It's all about tracing and copying, adding some splashes of colour and then getting to work with some scissors. It's fun and great for those who need a little more structure.
15. 'Guess How Much I Love You' Colouring Book
Finishing with another colouring book, this one is considerably different from the Dahl offering. Little children (and parents!) adore the gentle and lovable tale of Little Nutbrown Hare. Here's their chance to get colouring and there are dozens of stickers included too.
Inspiring creativity in children is a wonderful gift that you can give them. Foster that creativity by providing them, and you, with books which are rich with ideas. Then break down the boundaries and let them actually create in the way that brings them joy.