Cost of Dying: How can I fund my funeral?
27th September 2016
Not only is it important that you share your funeral wishes to ensure you have the perfect send off, it's also important that you have considered how your funeral will be paid for. According to research undertaken in 2017*, the average cost of dying today is £8,905. This is based on the average funeral cost being £4,078, the average price of a send off at £1,928 and the cost of a funeral director at £2,899.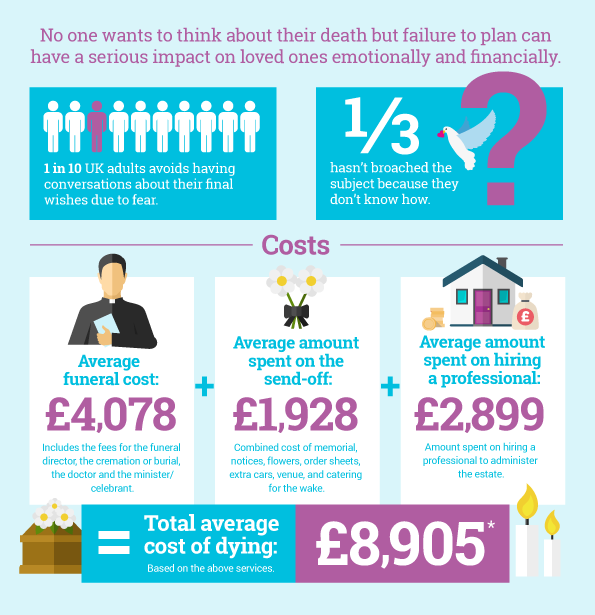 There is no doubt that paying for a funeral can be expensive. It is important you have considered who will pay for your funeral and where the money will come from to fund it, to avoid your loved ones having to deal with complications when you are no longer about.
To help those that you are leaving behind financially, you can pay for the funeral yourself by paying in advance, taking out life insurance or by leaving money to your estate to cover it. In some cases, the local council or hospital can arrange a Public Health Funeral (usually a cremation). This typically happens when there isn't enough money in the estate to pay for  a funeral and there are no relatives available to arrange the process.
How can I fund my funeral?
There are a few different ways your funeral can be funded. Read the options below:
Over 50s Life Insurance
Here at Shepherds Friendly, we offer an over 50s life insurance plan. The plan provides your loved ones with a fixed, tax-free cash lump sum when you die, designed to help to pay towards your funeral costs and any other expenses that may be incurred.
If you're aged between 50 and 80 at the time of application and you live in the UK permanently your cover will be approved, and we won't ask any questions about your health or personal circumstances.
Our Over 50s Life Insurance starts from just £10 a month. You can decide on a premium that suits your budget up to £50. However, the higher your premium the higher your level of cover will be.
Pre-paid funeral plan
You can arrange a pre-paid funeral plan with a funeral director or funeral care company. With this plan, you choose a funeral director to arrange the funeral and let them know your wishes. It is important that with a pre-paid plan you have the total amount covered in your plan for your funeral wishes; otherwise you may need to pay additional amounts as add-ons. Some funeral directors might have the option of paying them in instalments. However, they will often ask for some money up front.
Paying with your bank account once you've died
You may leave money in your account to pay for your funeral. Bear in mind, your bank or building society normally freezes individual accounts when they're informed of the person's death. To access the money, your family member or friend will usually need the help of the executor or administer of the estate to access the money. However, this is not always needed; sometimes a copy of the death certificate or an invoice for the funeral costs will suffice, as a minimum.
Claiming funeral costs from the estate
If you decide you'd rather have family, friends or the council pay for your funeral, they can cover the costs of the funeral from your estate. If you have other debts, the funeral will usually be paid first. However, some secured debts such as a mortgage are prioritised over funeral costs.
Do you have particular funeral wishes but find it difficult talking to loved ones about it? This funeral wishes booklet might help.
If your loved one hasn't left behind their funeral wishes, find out how to plan a funeral here.
*SunLife Cost of Dying report
Embed our infographic using the code below: