Have you got family coming over and you're looking for an activity to keep all ages entertained? Maybe you're just looking for something to do with the immediate family on a rainy day? What better way to pass some time than to get everyone brains working by testing each other's knowledge with our family quiz.
The quiz has eight different categories; science, history, geography, nature, sport, film, music, and TV.  The categories have five questions which each individual simply needs to answer in the boxes provided.
If there is a large group of you, you could choose to split into teams and have a quiz host who reads out the questions and then once the quiz ends, shares the answers.
The winner is whoever or what team gets the most questions correct. If there is a draw, why not set the two winning teams or individuals a challenge to find an overall winner.
The challenge could be something along the lines of who can work out a riddle of the quiz hosts choice the fastest, or it could be a physical challenge such as, who can run to the end of the road and back the fastest.
We hope you enjoy Shepherds Friendly's fun family quiz.
Download the Shepherds Friendly Family Quiz questions and answer sheets below:
Shepherds Friendly Family Quiz
Shepherds Friendly Family Quiz Answers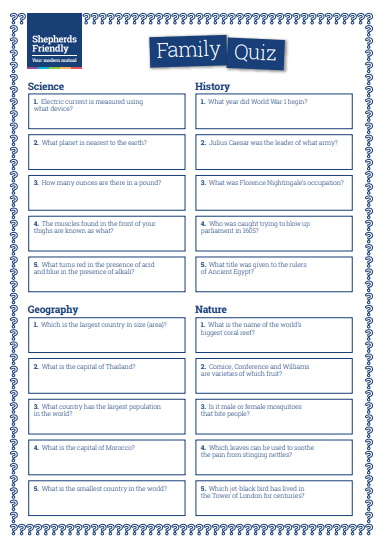 We also have Christmas themed quizzes that you can enjoy after your Christmas meal or at other Christmas festivities.
Select one from the list below to download below: