Our household budget planner [Download]
5th April 2017
If you're struggling to make ends meet each month or you are only making your money stretch to next pay day by the skin of your teeth, then the chances are that you do not have a household budget, or if you do then it may need some work.
Creating a household budget is the most precise way of getting a full picture of your finances. It will help you to work out how much income your household is bringing in each month and whether, as a household, you are spending more than you can afford to on luxury items. The planner will allow you to quickly identify where you need to make cuts to help you manage your money more effectively.
Before you use our household budget planner for the first time, it makes sense to spend some time gathering together the documents you will need, such as pay slips, council tax bills, insurance policies and credit card bills.
It is best to fill the budget planner in at the end of each calendar month. Read through the planner and think about what you've got planned for the month ahead; are there any events such as birthdays or Christmas happening this month which would mean that you need to budget differently from the previous month?
How to use the budget planner
'Our household budget planner' is easy to use. Simply:
Download and print off the household budget planner
Fill in the appropriate boxes on the sheet and then work out the total for each section.
Once you've filled in each of the steps, you can 'do the maths' by taking all of your total outgoings from your total income.
You can work out your total outgoings by adding step 2+3+4+5+6.
You are then left with your total remaining for the month.
If you are left with a negative number, you may want to review your budget planner.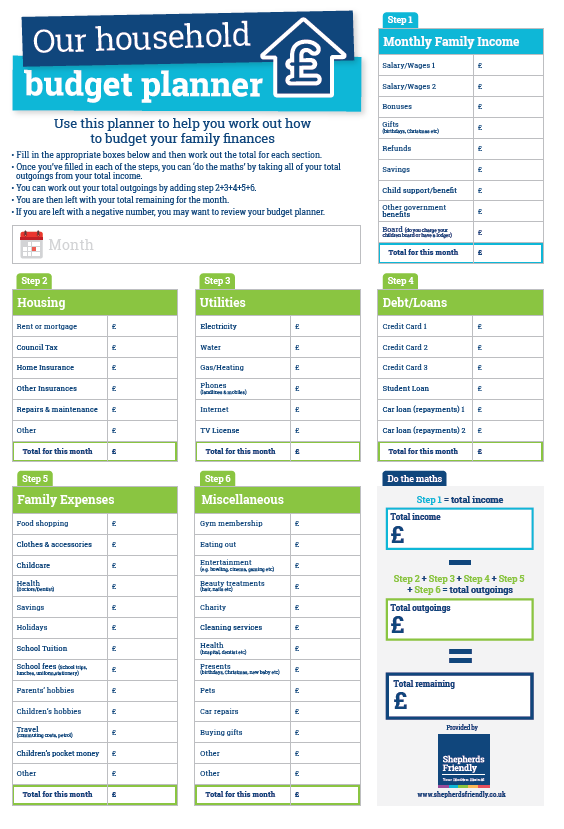 Embed our infographic using the code below: