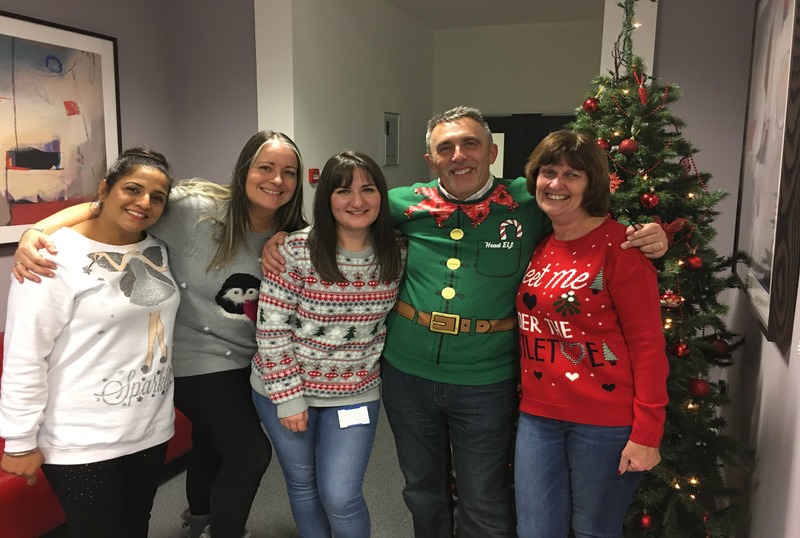 Festive fun at Shepherds Friendly while raising money for Save the Children!
16th December 2016
Staff from Shepherds Friendly wore their Christmas jumpers with pride on Thursday as festive fun took over the office!
Following the national trend of 'Christmas Jumper Day', staff turned up in a variety of festive jumpers, with reindeer, snowmen and even a couple of elves spotted around the office!
Through donations from everyone dressed in Christmas jumpers, we were able to raise a total of £100 for Save the Children!
Christmas Jumper Day is an annual event organised by the charity Save the Children, with the tagline "Let's get silly for a serious cause". Save the Children is a charity that helps children all around the world, from providing healthcare and education, to teaching young girls the dangers of child marriage. To donate, visit https://christmasjumperday.org/.
The money raised for Save the Children is in addition to the regular charity fundraising that Shepherds Friendly does throughout the year! Recent fundraising events include the Macmillan coffee morning where we raised just under £150, as well as the continued work we do for our chosen charity Seashell Trust!
Val Brookes, Member and Culture Manager at Shepherds Friendly, said: "Christmas Jumper Day is a great way for everyone to get in the festive spirit, while raising money for a great cause. We were delighted to raise £100 for Save the Children!"