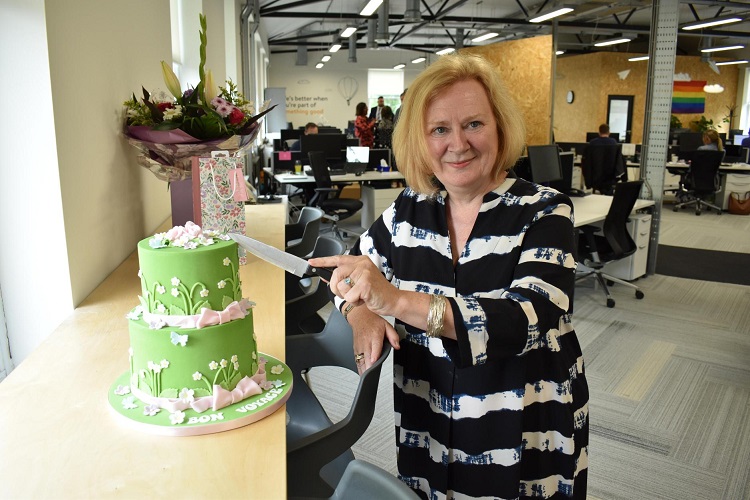 AGM 2022: Welcoming Members and Saying Fond Farewells
7th July 2022
This year's Annual General Meeting (AGM) took place on Tuesday 28th June and was an enjoyable and informative afternoon for all involved. On the same day, we also said goodbye to a valued member of our Board of Directors.
AGM 2022
It was great to welcome members back to our Head Office for our 2022 AGM; our guests enjoyed afternoon tea with some of our team and attended the meeting, as well a special talk from Handy Ladies Feeding the Community, a local group who provide vital food and care packages to those who need them. Chief of Marketing, Max Jarrold also gave a talk about the Society's sustainability achievements so far and our plans for the future in terms of furthering our efforts.
As a member of our Board of Directors, Culture Director, Nasrin Hossain participated in the meeting and said:
"After two years of being unable to invite members to attend our AGM in person, we really appreciated seeing members back at our Head Office and getting to chat to them face-to-face. The meeting went as planned and the talks were well received by both the Board and our members in attendance.
"I'd just like to say thank you to everyone who attended and voted in the AGM this year – our members are our priority, and this is a great way for them to have their say."
Helping good causes
For each vote in our AGM, we promised to donate £1.00 to good causes. By voting, our members have raised over £980 and the total will be split between:
Seashell Trust: Our nominated charity, based near our Head Office, who help children and young adults with complex learning and communication needs live more independent lives.
Handy Ladies Feeding the Community: A local community group dedicated to providing for those in need by delivering food, toiletries and other essential items and support to those who need a helping hand.
TreeApp: An environmental organisation whose app enables anyone to plant a tree. Our donation will go towards planting trees in TreeApp's afforestation projects around the world.
Thank you and goodbye
Our AGM fell on our latest Together Day, where the whole team comes together in the office to celebrate and learn. This was also Joanne Hindle's last day at Shepherds Friendly after serving her term on the Board. Joanne spent her last day with us sharing memories of her time with the Society and cake!
Before she said goodbye, Joanne kindly agreed to a mini-interview, which you can watch here:
Talking Shepherds Friendly with Former Board Chair, Joanne Hindle – YouTube
Thank you for everything, Joanne, we'll all miss you.