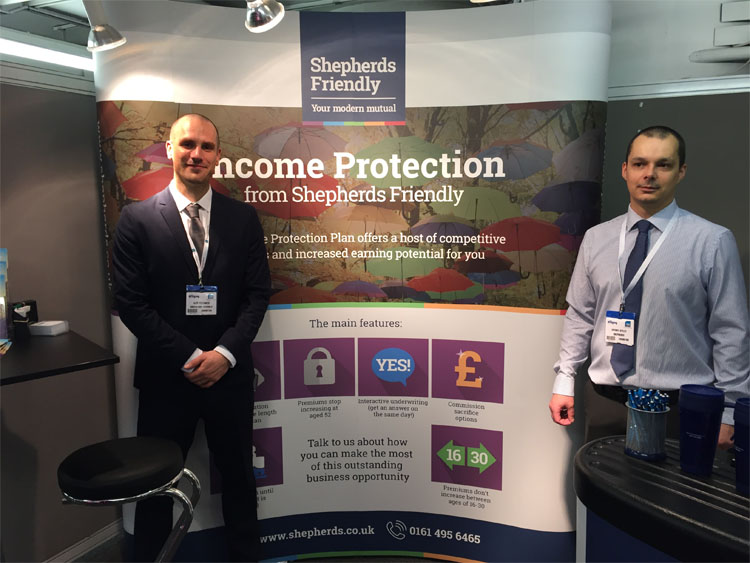 Mortgage Business Expo is a big success for Shepherds Friendly Society team
12th October 2015
Members of the Shepherds Friendly Society's intermediary team had a productive day exhibiting at the Mortgage Business Expo at the Barbican Centre in the heart of London yesterday (7th October).
The Expo, which was attended by 60 exhibitors and more than 1,200 advisers, provided the Shepherds Friendly Business Development team with the perfect opportunity to not only make contact with some new faces, but also to give visitors an exclusive look at its soon to be launched new Income Protection product.
Attendance at the event was headed up by Business Development Manager, Antony Uttley and Business Development Consultant, Alex Fallowes.
Commenting on the Expo and the Shepherds Friendly Society's upcoming product launch, Antony Uttley said:
"Attending events such as this are vital as they provided us with a forum to share with visitors more information about the Shepherds Friendly Society and our current and planned offerings, including the pending launch of a new Income Protection plan.
"Although this is only a one day event it was incredibly busy and very productive. We're looking forward to continuing the conversations we started yesterday."
Libbi Martin, Marketing Manager at Shepherds Friendly Society adds:
"This year's Mortgage Business Expo was a great event for us and the feedback we received from visitors has been really encouraging. In fact, we're already planning our attendance for next year."
For more information about the Shepherds Friendly Society and the plans offered, please call Anthony Uttley on 0161 495 6495 or email [email protected]