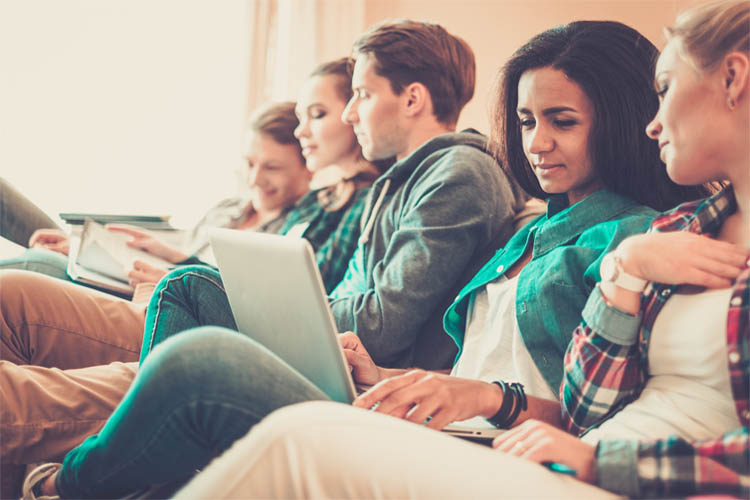 Shepherds Friendly Society offers career advice at Cheadle Hulme High School
12th October 2015
This summer members of Shepherds Friendly Society's marketing team spent the morning offering career advice at Cheadle Hulme High School.
Marketing manager Libbi Martin, digital marketing manager Max Jarrold and head of information and communications Sam Chivers all visited the school to impart their wisdom on today's youth. They spoke to year 9 students about to start G.C.S.E lessons about the different career paths they now have open to them. When discussing marketing and communications, many students admitted to the team that they had not heard of that area of work or had never considered it as a career. Shepherds Friendly Society's staff members discussed with the students how creative, interesting and varied marketing can be and they became more intrigued about the area. They found out how there was room for people who enjoyed subjects as varied as English, Art, Business Studies and IT, and many students agreed it would be something they would consider for the future.
Sam also had the chance to speak to year 12 students, who would soon be making choices about their future in regards to university. He discussed the merits of working in marketing and IT, and gave the students a breakdown of his day to day activities.
Libbi Martin, marketing manager at Shepherds Friendly Society who attended the career day, said:
"It was great being able to talk to high school students about all the options they have open to them. Many were not aware of marketing as a career, and they seemed very enthusiastic when we explained what we do and how it helps our business. As marketing needs such a wide range of skills from many different types of people, a large number of students seemed inspired to look into the industry further, so lets hope we've encouraged some of the great marketers of tomorrow!"
Shepherds Friendly Society is committed to helping the community around Cheadle where it is based. As well as helping out with their local charity, Seashell Trust, the Society is happy to dedicate time to local schools and businesses. Nasrin Hossain, who is head of people and culture at Shepherds Friendly Society, said:
"As a mutual society, we understand how important it is to give back to the community. Our visit to Cheadle Hulme High School is just one of the ways we strive to offer our services to those that need them.
"We have another event at a local school lined up to help the students with mock interviews, as well as charity work for the wonderful charity Seashell Trust."