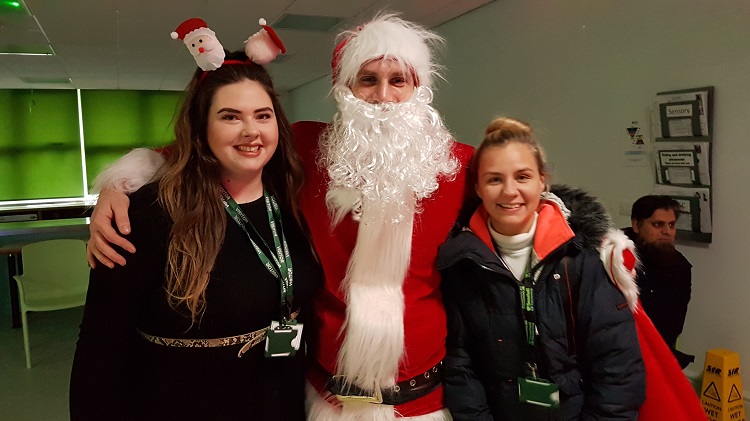 Santa Claus Makes a Special Delivery to Seashell Trust
24th December 2019
Santa and his helpers from Shepherds Friendly visited Seashell Trust this week, with a special Christmas delivery: a cheque for £1,800.
Seashell Trust is a charity which provides "a creative, happy and secure environment for children and young people with complex and severe learning disabilities, which include little or no language abilities." It houses a school and college and offers specialist facilities that aim to help students lead independent and fulfilling lives.
Shepherds Friendly has been supporting the great work of Seashell Trust for the past few years, through fundraising and volunteering at the Cheadle Hulme-based charity. On Monday 23rd December, members of our Business Development and Underwriting teams paid them a visit to help out at a sports event. Santa even showed up to spread some Christmas cheer!
Jasmine, Laura and Alex were on hand to help with the smooth running of the day and to deliver some chocolates and a cheque for the total amount that Shepherds Friendly has raised for the trust throughout 2019, a huge £1,800.
National Distribution Manager, Alex Fallowes, enjoyed the day. He said:
"Everyone had a fantastic day and there was loads of festive fun going on. Being able to deliver the cheque for such a huge donation on behalf of the business was really rewarding, any donation means the world to the trust."
Our HR Administrator, Maxine Taylor added:
"Our ongoing relationship with Seashell Trust is something the entire business is passionate about. The most recent visit was a success, the volunteers and the students had a great day. We've even been told one young man said it was the best day of his life!
"It's great to see all of our staff play their part for charity; we are never short of volunteers and everyone gives generously at fundraising events. So, thank you to our team for what they have raised this year and an even bigger thank you to Seashell Trust for all the brilliant work they do."
To find out more about the Seashell Trust and what they do, take a look at their website.