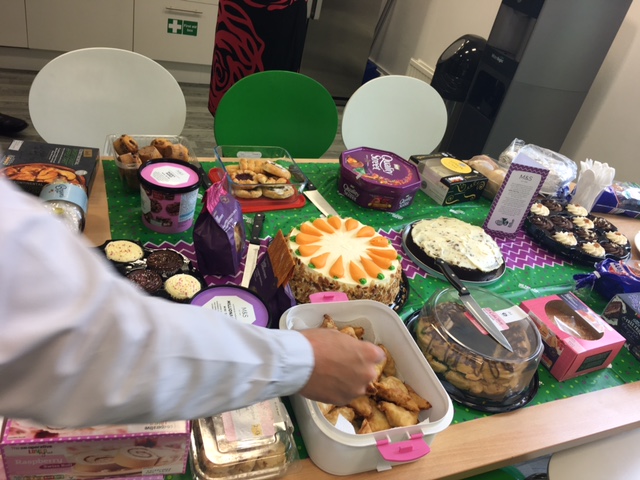 Shepherds Friendly celebrates Macmillan coffee morning
30th September 2016
We celebrated the "World's biggest coffee morning" on Thursday 29th September for the Macmillan cancer charity, raising a total just under £150.
The "World's biggest coffee morning" is Macmillan's largest fundraising activity, and aims to raise as much money as possible for people suffering with cancer by getting people to donate money while enjoying coffee and cake.
A wide variety of food was brought in by staff, including a range of cakes and pastries, and samosas and pakoras, all of which went down a treat in the office!
We also ran a "Spot the Cake" competition which involved guessing how many spots were on a cake, with finance executive Matt Lea guessing 493 with a total of 495!
CEO, Ann-Marie O'Dea, stated: "Our coffee morning was a great success and we managed to raise just under £150 for Macmillan. Shepherds Friendly staff fully embraced the day, with a kitchen full of food for everyone to enjoy".
Shepherds Friendly has a proud history of supporting charities whenever we can, including our chosen charity Seashell Trust, which is based in Cheadle near our head office. Seashell Trust cares for and educates some of the most profoundly disabled children and young people in the UK. To find out more about their work, visit: www.seashelltrust.org.uk