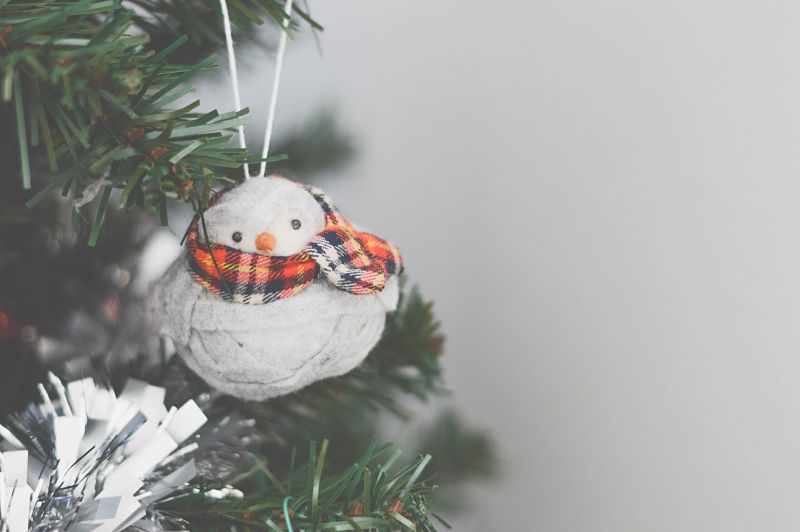 Christmas craft ideas to do with children
10th December 2018
It's time to wheel out the glitter, glue and tissue paper! Christmas time is crafting time. It's the time to get stuck in, create memories, make a mess and have some fun. Here are our favourite Chrristmas craft ideas for little hands.
1. Cotton wool snowman
Cotton wool balls can be used as a versatile craft material by around Christmas, with one ever popular activity being to create Santa's beard and delightful fluffy snowmen. Simply cut out a snowman shape in white card. Then, let them get busy with glue, sticking the cotton wool to the card. Give them some buttons, a ribbon for a scarf, and googly eyes and they will be super proud of their creations.
2. Reindeer Hat
With a little help from an adult, most children will be able to rustle up their very own reindeer hat which fits snuggly on their own head.
Simply, measure the shape of your child's head, cut the paper into a three-inch-tall strip, and check that it fits around your child's head. Staple the paper together and then double check it fits again.
Next, get some brown paper and fold it in half, draw an antler and then cut around the shape. This will help them to make the antlers that can be stuck on the inside of the paper circle that you have just stapled together. We also love the idea of using your child's own hands as templates for the antlers.
All that is then left to do is add on the wiggle eyes, add a red pompom for the noise and draw on a mouth. Once they have finished, let loose your herd to go and frolic and play.
3. Paper chain Christmas tree
We're familiar with making paper chains, but we love this ingenious idea of linking chains together to make a Christmas tree! If you want to extend the crafting, then why not let them decorate it with pompoms as baubles.
4. Scrunched tissue paper Christmas trees
Even the youngest crafters can get in on the act with scrunched tissue paper Christmas trees. Cut out tree shapes from card and paint them green. Then let the children scrunch up balls of tissue paper to make the baubles, and dot them on with glue.
5. Toilet roll reindeer
You can create a lovable Rudolph from just a toilet roll and sticks! To create your toilet roll reindeer, paint the toilet roll brown, then cut down one toilet roll to use for the head, as it should be slightly smaller than the body. Cut some holes to poke the sticks through for the legs and head and then piece it all together. We reckon that this could be a decoration which comes out year after year!
6. Lolly stick snowflakes
Incredibly simple, but beautifully effective, these lollipop stick snowflakes are the perfect Christmas craft for all ages. Little ones may need you to fix the sticks together in advance, but older ones will adore coming up with designs as unique as the real thing. Use hot glue to stick the lollipop sticks together in a snowflake shape by putting one on top of the other in different directions. Then cover the snowflake in glitter, sequins and anything else your child desires.
7. Make a snow globe!
Follow this video tutorial to make a jam jar snow globe. They don't tend to last more than a season as the water can get dirty, but kids will love the process involved. Just make sure that you're ready with the super glue to fix the lid on securely!
8. Fingerprint light printing
Get some sheets of white paper and draw a wavey black line from one side to the other. Then get little splodges of paint in a range of different colours. Let the kids use their fingers to print a 'bulb' at points along the line. It's so simple, but results in a fantastic looking picture.
9. Pasta wreath
Use some bow pasta, green paint and glitter, to create mini Christmas wreaths that make a perfect decoration to sit on the mantelpiece throughout the Christmas season. Simply paint and decorate the pasta and then glue the pasta pieces together once they're dry in a circle. You could add some pretty bows onto them once they're dry to finish it off.
10. Stained glass nativity
This tutorial will help you make short work of creating an impressive stained-glass nativity. Hang it on the Christmas tree and your little one will marvel at the transformation of the fairy lights, or pop it on your window.
11. Beaded candy canes
If you want to sneak in some fine motor skills practice and come up with a tree decoration you can use time and again, get your children making pipe cleaner candy canes. Get two difference coloured beads, preferably white and red and put the pipe cleaner through it, in the shape of a candy cane. An easy and cheap way of creating extra decorations for the house.
12. Pine cone Christmas trees
Head out on a winter walk to collect some pine cones. Then come home and use them to create a mini Christmas tree ornament. Paint your pine cone green, then use whatever supplies you have to hand for the decorations; from glitter to sequins to pompoms, they will all look good.
Hope you have fun crafting with kids this Christmas!