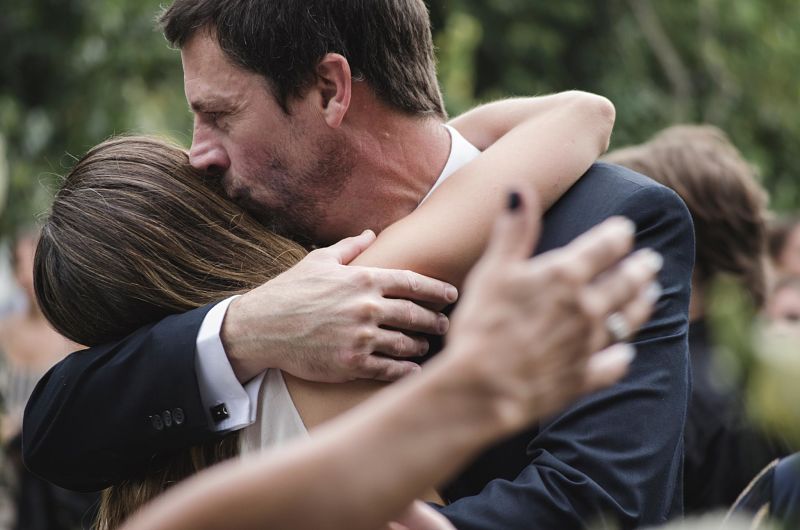 Tips to strengthen the family bond
7th June 2018
In our hectic lives our family foundations can sometimes feel shaken. We may feel we're not getting the time needed to invest in the relationships most important to us. Perhaps we feel that sibling rivalry is pulling the family apart rather than together. Having a strong family bond ensures that everyone feels secure and has a family rock on which the rest of life rests. Knowing how to strengthen the family bond, when time is a resource that is short in supply, is vital.
1. Eat together
It may not be possible every night, but try to make time when you can to eat together as a family. Actively work to make diaries and teen schedules tally so that several times a week you're all together around a table simply 'being together'. At these times it can help to play games and quizzes to get the conversation going and insight in to each other's thoughts. Another meal-time bonding activity is to have a jar of 'family questions'. These can vary according to ages involved but can spark interesting and valuable discussion.
2. Make weekend breakfasts a 'thing'
As children grow weekends can quickly become a time when everyone is off doing different things. Some are heading out to an activity, others have a sports fixture, someone else is going shopping and some may be working. Start the weekend off right by having a nice breakfast all together. Make it a treat with muffins or croissants to get everyone to the table.
3. Send and leave notes
Bonding doesn't just rely on what happens when you're together. A powerful way of strengthening bonds is to do things which demonstrate you're thinking of other family members even when you're not together. Write a joke on the family whiteboard, leave a love note in the diary on the next day, or pop a little memo in the kid's lunchboxes.
4. Get physical
There's a reason why monkeys groom and puppies tumble – the physical interaction strengthens bonds. We're not advocating you start rooting through your family's hair! However, if you have young kids get down on the floor and let them scramble over you. Older kids might like play-wrestling dad.
5. Set a common goal
Those who work together stay together. Even if the task is painting the garden fence, or completing all of the household chores, get in it together and work towards the goal together. This prevents resentment building for one family member feeling like they are 'doing it all' but also gives you all a sense of being focused as a group.
6. Create traditions, and not just for the big occasions
Most families create traditions around special times like Christmas. However, if you can create family traditions which weave in and out of the year then you'll be strengthening the family bond year round. This can be as simple as nick-naming a landmark on a common journey, or always having the first picnic of summer in a special place. Make them unique to your family.
7. Play board games
In our high-tech world we can easily find ourselves together, but not together. Put down the phones and get out the board games. Playing together in this way encourages a sense of fair play in the family and can be great fun. For a particular bond-building game, try Sussed! This game challenges you to think how your family members will think and feel in certain situations and can be amusing and invigorate debate too.
8. Volunteer together
Working together to do something helpful to others can help your family appreciate what they have. By volunteering as a whole family, from something as simple as running donations to a food bank or charity shop, to helping a community project, you create your own sense of community within the family.
9. Have 'in' jokes
Often coming about completely by accident, in-jokes can create a sense of unity in the family. This may be the entire family using a word that was misappropriated by one member when they were a toddler, or all taking a moment to 'remember when daddy…'
10. Have a movie night
The TV is often the congregating spot, so make it play its part. Choose a new movie, pop some pizzas in the oven, and snuggle on down on the sofa.
11. Go to an escape room!
Suitable for older kids and a fantastic family activity is to sign-up for an escape room challenge. Here you'll soon unlock the different strengths of different family members, as well as hopefully unlocking the door. The sense of achievement will be shared by everyone (if you succeed!) and it requires real team effort!
12. Get a project underway
Whether it's a new Lego creation, a treehouse for the kids, or decorating a new room, assign tasks and get going together. Working in this way you've again got a common purpose and can see how everyone contributes to the overall goal.
13. Foster support and love
Particularly if sibling rivalry has taken root, it's time to focus on rewarding support and love. Praise siblings when they do something kind and help them think of ways they can actively make a positive difference to each other. Demonstrate to them how we support each other when things are tough, from losing a game, to the tougher moments of life. Be each other's champion.
14. Take time out when you need it
It may seem odd, but taking time out from family life can give you the energy you need to continue within it. It also gives you the space and distance to appreciate what your family means to you away from the humdrum of everyday life. Try to factor in downtime for yourself so that you can appreciate the bond you have.
15. Get involved in others' interests
If you're struggling to spend time together as a family then it's time to give someone else's hobby a go. Showing an interest can ignite a sense of care for one another. Demonstrating that you're interested in each family member, whether they are like you or not, helps you regain common ground.
Hopefully we've inspired you to make some changes to family life so that you can strengthen your family's bond. What else works for your family?