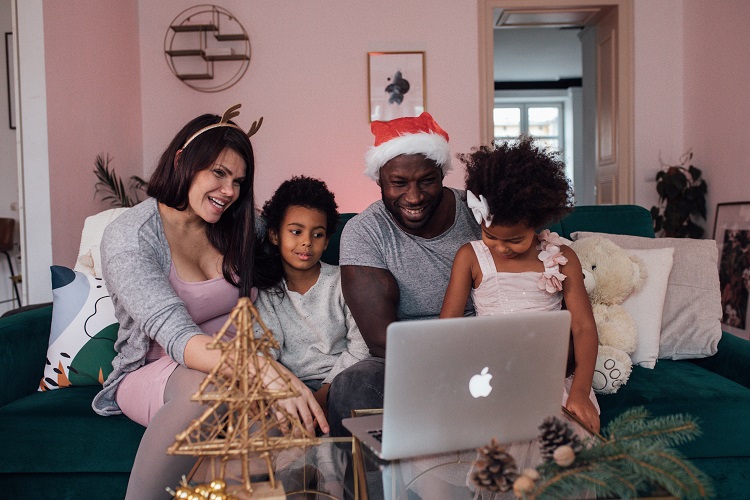 Virtual Family Christmas Ideas: Celebrate Together, While Apart
17th December 2020
Christmas is all about traditions. The food, the decorations, the songs… All of it brings a particular sense of comfort that we only feel at this special time of year. It's usually a chance to enjoy quality time and make memories with our friends, family and loved ones. While this year's festivities are set to be a very different for many of us, there is an opportunity to explore new and fun ways to celebrate – even if you can't be there in-person with those you love.
It goes without saying that Christmas is loved by children and big kids alike and there's fun to be had for all the family. With Christmas focusing on family for so many, it may feel strange if you're missing out on the usual family get togethers, visits, parties or however you choose to enjoy the holiday season.
We're extremely lucky that we have video calling at our fingertips. It's undeniable that still being able to see our loved ones' faces at the touch of a button has helped keep people connected with those they love during what has been a challenging and, for some, isolating time. This same technology could help to save Christmas for families throughout the world.
Virtual Family Christmas Ideas
As the world remains hopeful that this year of social bubbles and restrictions is a one-off, there are still ways to make Christmas 2020 an enjoyable one. To help you make the most of this unique and unusual festive season, we've pulled together some ideas to help inspire you when it comes to virtual Christmas celebrations with your family. Who knows? You might discover a brand-new tradition to add to the list!
Here are some virtual family Christmas ideas to help you make sure that this year's is as full of fun, laughter and joy as it always is:
Virtual family game night
Whether it's a classic board game, a parlour game or something online, family games always bring big smiles at Christmas. If you're having a virtual family Christmas this year, getting everyone involved in a game is one way of enjoying time together either in the run up to, on or after Christmas Day.
Games such as charades, sticky note games, drawing games or quizzes will need very little alteration to make them video chat-friendly. That being said, some board games aren't off the table; one person or family can control the board with others playing via video call. For board games that don't lend themselves to being played this way, see if there is an online version. You'll find a host of family-friendly games available online or via apps, so take a look and start playing!
Have a sing-song
According to family favourite, Buddy the Elf, "the best way to spread Christmas cheer is singing loud for all to hear."
What's more festive than gathering with those you love to sing some festive songs with a cup of something warm and maybe even a mince pie? While music events, nativity plays and parties may be on hold, your family can still have a festive sing-song via video chat. Whether you're young or old, a musical genius or unable to carry a tune, it doesn't matter, just sing your heart out and have fun. Those who play instruments can join in, too.
To make it extra special, everyone could wear their best Christmas jumpers and have some seasonal snacks close at hand!
Story time
Bedtime is often the only time the kids are quiet. Although, getting them settled with all of the excitement of Santa's imminent arrival isn't always easy! As many parents know, a story is a fantastic way to get little ones ready to drift off. Why not let a relative do story time one night via video call? Some devices, such as the Facebook Portal, even have a dedicated mode that bring stories to life. Festive favourites for kids include:
The Night Before Christmas
The Jolly Christmas Postman
The Snowman
A Christmas Carol
The Christmasaurus
Father Christmas
The Lion, the Witch and the Wardrobe
Cook along
If Christmas isn't Christmas without your mum's mince pies or you could you not bear the thought of Boxing Day without your Grandad's famous trifle, you don't have to miss out. Set up a virtual Christmas cook along with your family members to learn how to make your favourite festive foods. Or if you're missing having family in the kitchen as you prepare your festive feast, give them a video call so you can still keep each other company as you cook.
Don't forget your little helpers; this could be a great activity for the kids, too. They love getting their hands dirty, helping out and being 'chief taste tester'! You could arrange for your little ones to bake or decorate some Christmas treats at home whilst family or their friends join in virtually.
Show and tell
For kids, Christmas is magical and there's so much going on. They love to share their excitement with others, and a video call could be the perfect platform for them to do this.
Therefore, another great virtual family Christmas idea is to encourage the little ones in your life to do a show and tell style activity with you or other members of the family via video chat. They can show off their Christmas themed crafts, contributions to decorating the tree, festive outfits or even what Father Christmas has brought them. By doing so, everyone stays connected and has an alternative way of the family enjoying precious moments with the little ones (before they're not so little anymore!).
The big day: Spend time together… apart!
Although up to three households are permitted to come together in a social bubble over festive season, not everyone will be able to share Christmas with their loved ones this year. Below are just a few of the ways video calls can keep the whole family together, even if you're celebrating apart, on Christmas Day:
You can have virtual attendees at the Christmas dinner table, meaning there may be no need for those 'emergency chairs' this year! This way, you can still chat, laugh at terrible jokes out of Christmas crackers and share a meal with those that can't make it to dinner, so no one needs to miss out.
Grandparents, aunts, uncles, cousins can be there virtually to watch the little ones open their presents from Santa. Plus, your loved ones can still see your face when you open your gifts and vice versa. Yes, you may still have to feign surprise when your Nan buys you socks (again).
Maintain your traditions. Do your family usually watch the Queen's speech together? Perhaps dinner is usually followed by games? Or karaoke? Use technology to your advantage and these traditions can still be observed, albeit with a bit more buffering. Bonus: You'll could just mute Uncle Dave's snoring when he falls asleep on the sofa after one too many glasses of Bailey's…
Christmas 2020 may very well be one for the history books and, while it may look a little different than usual, where there's family, there's fun. Even if you're celebrating a virtual Christmas this year. Shepherds Friendly would like to wish you all a merry Christmas and a happy New Year.