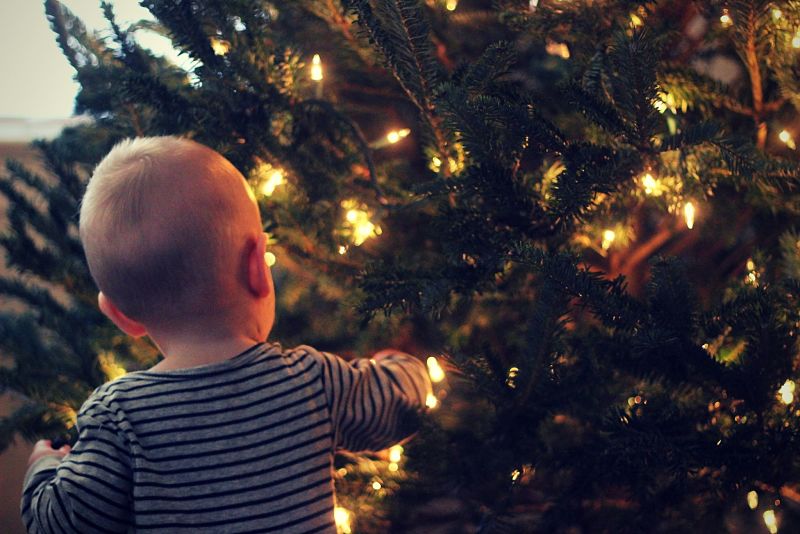 Ways to celebrate baby's first Christmas
5th November 2018
What an incredible year it's been. Jam-packed with milestones, and if this year is going to be rounded off with baby's first Christmas, it could be filled with magic for you.
What's more, this will be one of your most memorable family Christmas times, even if your little one won't remember it. It's the first time you're celebrating as parents, or with another sibling in the mix. So how can you celebrate baby's first Christmas in a truly memorable way?
1. Get a baby's first Christmas tree decoration
There's something so symbolic and treasured about Christmas decorations. Bringing the decorations out again reignites memories. Every year as you unpack the decorations, this first Christmas Tree decoration will set your heart a-flutter with memories of their earliest moments.
Now may be the time to start a new tradition of buying them a new decoration every year. That way they will have their own collection of memorable decorations when they have a home of their own.
2. Write down your memories
Right now, we're sure that sleepless nights are etched in your mind and you're sure you'll never forget a moment. In just a few short years, these memories will fade, unless you put them down. Next year, you'll be ridiculously busy with a mobile toddler who knows exactly what they want. This year make your gift to your baby a record of all your memories of them this year. Tuck it away in their memory book for safe-keeping.
3. Get a photoshoot
It's impossible to resist rosy baby cheeks and gummy grins of a small baby in an elf outfit. Perhaps you'd prefer them to be gazing up in wonder at twinkling fairy lights. No matter your preferred style, a Christmas photoshoot for babies ensures the memories of this moment are captured forever.
4. Take them to see Santa
Yes, we know they are too little! But if there's a bigger sibling on the scene, or you simply want some adorable photos with the Man in Red, then this is your chance. Before their cynical eyes demand highly-themed grottos that cost almost as much as a trip to Lapland itself, visit a low key local Santa's grotto, simply for the picture and the memory.
5. Make some handprint art
It's incredible how quickly your little one grows. Baby's first Christmas is an ideal time to have some fun with their first finger painting session. At the same time, make some handprint art on canvasses. Again, these make great gifts, but they will also become precious keepsakes for you.
6. Announce the news
With the world of social media, chances are your birth announcement faded before you even left the hospital. We know you feel bursting with pride for your little one, and rightly so. Christmas is the perfect time to pop a new birth announcement in the card for more extended family and friends, perhaps those who aren't on social media.
7. Celebrate with new friends
Along with your new baby, you've likely made new 'parent friends' this year. You've been 'in it together' and are watching your babies develop together. This is a perfect opportunity to organise a get together with cutely dressed up babies. You won't get away with reindeer snowsuits or Christmas pudding hats for long, so make the most of this window of opportunity.
8. Make Christmas cards
Fed up of impersonal Christmas cards? Make a change by using one of your Christmassy photos of your baby to create a sweet card that will be cherished and given pride of place on the mantelpiece.
9. Get them their first stocking
They'll definitely be on the nice list, and we know you won't be able to resist buying for them, so start their stocking tradition. How wonderful to be able to say they've had the same stocking from their very first Christmas. Choose the size carefully – big enough for exciting Christmas mornings with plenty of treats, not so big you're struggling to budget every year when they've moved beyond the joy of cardboard boxes!
10. Mesmerise them with fairy lights
Never again will your child be so easily pleased come Christmas! This year, gaze in wonder on them as they gaze in wonder at twinkling fairy lights. It really is magical and a moment you'll never forget.
Baby's first Christmas is the time for memories, and for letting the magic begin.