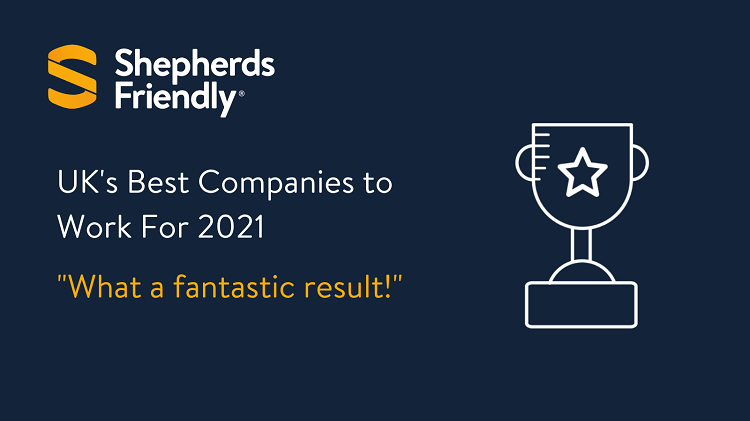 UK's Best Companies to Work For 2021: How Did We Do?
24th May 2021
We recently revealed that Shepherds Friendly had been included in three UK's Best Companies to Work For 2021 lists. On Friday (21st May 2021), the eagerly awaited rankings were revealed, so how did we get on? Here's a quick spoiler for you: we're over the moon with the results!
You may recall us recently sharing that we had been awarded with a Best Companies 3-star accreditation and that we had been included in three separate lists for the UK's Best Companies to Work For, all because of our outstanding levels of staff engagement. However, the good news doesn't end there! Following last week's virtual ceremony, we can finally reveal where we came in those lists.
What are the Best Companies lists?
We'll let Best Companies themselves explain the significance of being included on one of their lists:
"Earning a place on a list as one of the UK's Best Companies to Work For is an accolade like no other. It recognises your commitment to your employees and demonstrates that you see workplace engagement as a vital part of your organisation's success."
A place on these lists is highly sought after by businesses from all sectors across the UK. After our successes last year, we're thrilled to have been included once again and, this time, in three lists.
Where did Shepherds Friendly rank this year?
The rankings for the Best Companies to Work For 2021 regional, sector and national lists were announced at Best Companies Live, a virtual showcase event which took place on Friday 21st May 2021. The event also included some informative 'insight sessions' which covered key topics for staff engagement, alongside a selection of special awards.
However, it was the list rankings that had everyone on tenterhooks. Without further ado, here are Shepherds Friendly's Best Companies to Work For list places for 2021:
Financial Services' 30 Best Companies to Work For: 8
The UK's 100 Best Small Companies to Work For: 15
The North West's Top 100 Best Companies to Work For: 32
"What a fantastic result!"
Members of staff from all over the business made this achievement possible, including those who completed an in-depth survey about their experiences of working at Shepherds Friendly over the past 12 months. Given everything that's been going on in the world since 2020, improving our accreditation score and these brilliant list rankings are certainly a testament to the hard work we've been doing to keep our staff engaged and connected when working remotely.
Our Culture Director, Nasrin Hossain was particularly pleased with the results from today's Best Companies Live event and said:
"COVID-19 certainly presented a challenge with regard to staff engagement – how do you keep a remote team connected? Over the past year, we've worked hard to ensure that staff felt safe, supported and engaged, even with the whole team working from home for over a year. This involved lots of wellbeing support, ensuring that staff continued to develop and learn and stay connected with each other, as well as plenty of communication.
"Living through a pandemic has undoubtedly been difficult for all of us, so it's heartening to see that staff are still feeling fulfilled, supported and engaged in their jobs at Shepherds Friendly. Having our levels of staff engagement recognised by Best Companies on top of this is definitely something for us to be proud of. What a fantastic result!"
To stay up to date with all things Shepherds Friendly, make sure you're following us on social media.