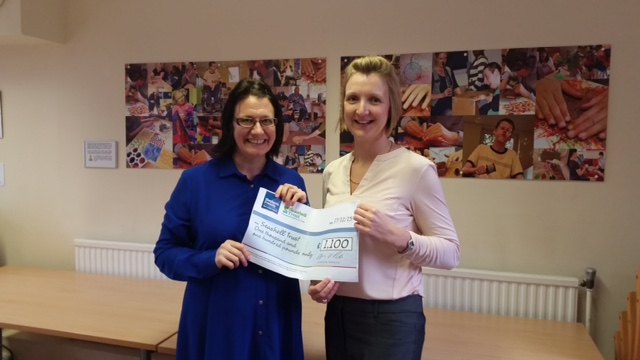 We present Seashell Trust with a charity donation of £1,100
2nd February 2016
At the end of 2015 we visited our charity of choice, Seashell Trust in Cheadle, and presented them with a charity donation of £1,100. This will contribute towards the development of an interactive children's playground within their new residential development area. Our recent donation will bring the total of our contributions to the charity to £2,521.
The interactive playground, which is due to be finished by the end of August, will be used by children and young people attending the residential school at Seashell Trust, as well as families on short breaks. The multi-sensory space will encourage students to communicate in a safe and social welcoming environment, and will help them explore through touch and sound. Our charity donation of £1,100 will contribute towards the total cost of the playground alongside other donations from local businesses and money raised via the fundraising efforts of the team at Seashell Trust.
Our previous donations to Seashell trust have contributed towards the creation of a wildlife garden and bird watching area supporting students to learn about the world around them.
Seashell Trust cares for and educates some of the most profoundly disabled children and young people in the UK, between the ages of 2 and 25 years old. They provide a happy, creative and secure environment through their residential school and college, and offer short breaks and sports days.
To learn more about what we did to raise money for the Seashell Trust throughout 2015 have a look at the blog "Our year with the Seashell Trust". 
Ann Marie O'Dea, our CEO, said:
"We were all delighted to be able to present Seashell Trust with their cheque of £1,100. The charity does wonderful work for its students and we are happy to be able to contribute to such a deserving cause.
"We plan to carry on this partnership throughout 2016 and look forward to discovering more ways we can work together to benefit the Seashell Trust."
Wendy Bray, Corporate & Individual Giving Fundraiser at Seashell Trust, said:
"We are grateful to all the businesses who are contributing to making this amazing space happen. We know everyone at Shepherds Friendly Society really understand our children and young people and their needs and how valuable this will be. We hope the Society will be able to join us for an opening of the playground when it is finished later this year. We'll also be installing a board in the playground to acknowledge every company that has helped make it happen."
Our 2016 charity plans with Seashell Trust will continue with employee focused fundraising, including charity dinners and regular monthly donations. We are also open to any employee ideas for fun and exciting ways in which we can raise money.