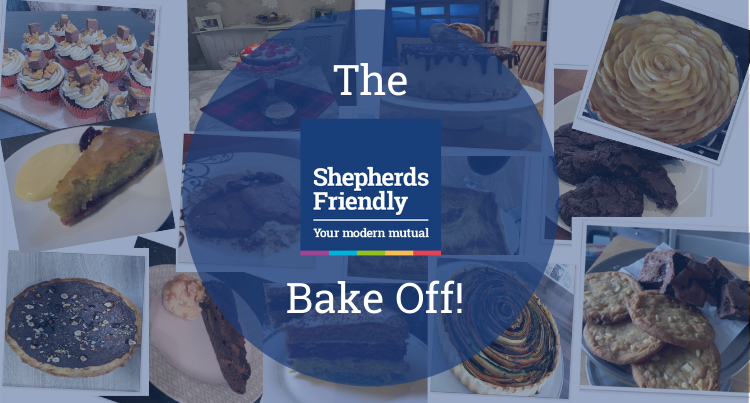 Virtual Fun: Shepherds Friendly Bake Off and Charity Afternoon Tea
2nd October 2020
The Shepherds Friendly team recently took part in a remote 'Bake Off' competition and came together online to share an afternoon tea, all in support of the annual Macmillan Coffee Morning.
Since we started working remotely, we've been finding plenty of new ways to stay connected as a team. Online pub quizzes, games of bingo and competitions have all been highlights of the company's social calendar over the past few months, and our most recent virtual 'get-together' was thoroughly enjoyed by our staff.
Last week, our whole team (including our Board) was invited to participate in a charity 'Bake Off' competition, with the winners being revealed during a virtual afternoon tea.
The Great Shepherds Friendly Bake Off
With the Great British Bake Off back on our screens, we thought we'd get into the spirit of things and hold our very own 'Bake Off'-style competition in order to raise some money for cancer charity, Macmillan.
Members of staff donned their aprons and whipped up a plethora of baked delights. Our talented team pulled out all the stops with entries including: Bakewell tart, apple tart, cookies, chocolate fudge brownies and a biscotti sponge cake, to name but a few!
Photos were submitted to our judges, who then had the tough job of deciding the winners for two categories:
Sweet – Winner: Rosie's Crunchie cupcakes
Savoury – Joint winners: Ben's beef and Guinness pie; Holly's rainbow vegetable tart
The winners were revealed at a company-wide afternoon tea. Well done to our winners and everyone who entered!
Virtual Afternoon Tea
As a team, we're very much used to getting together in the office. So, as we're still working remotely, we need to get creative when it comes to staff gatherings!
Our first ever virtual staff afternoon tea was a success! Each member of staff even received their very own afternoon tea kit prior to the event, this included: a freshly baked scone, a pot of jam, a small bar of chocolate and, of course, a tea bag.
The team and the Board then met online to share a cup of tea and something sweet, and to have a general catch up.
Culture Director, Nasrin Hossain said:
"We have such a close-knit and sociable team, so we understand how challenging it has been for everyone to spend the last few months apart. The afternoon tea was not only a great opportunity for the team to get together and have a chat, but also a we
ll-deserved treat for everyone's hard work, co-operation and patience throughout a period of ongoing change.
"It was also fun to see everyone's fantastic efforts in the 'Bake Off' competition, too – we clearly have some talented bakers in the team!"
Supporting Macmillan Cancer Support
In ordinary circumstances, we would hold a bake sale in aid of Macmillan's Coffee Morning. Even though we can't fundraise in the same ways as we usually do, as a result of our baking contest and afternoon tea, Shepherds Friendly will be donating £100 to Macmillan Cancer Support.
You can find out more about Macmillan and the vital work they do here.